Western liberals claim burqa bans protect Muslim women. These experts say otherwise.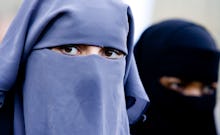 Austria is the latest European country to pass a bill that would prohibit burqas and full-face veils in public spaces.
On Tuesday, the Austrian parliament passed a new bill that would charge women a 150-euro fine (or about $167) for wearing burqas and niqabs in universities, public transportation and courts. The law will take effect in October.
The ban is a part of a migrant law that includes a 12-month integration educational program required for asylum seekers that have a likelihood of staying in Austria. The program would also require asylum seekers to take up unpaid work to "prepare them for the Austrian job market." If asylum seekers refuse to take part in the course, their social welfare benefits will be cut.
Austria is just the latest in a spate of European countries that have placed prohibitions on religious symbols. Since 2011, France, Belgium, Italy, Switzerland and Bulgaria have already implemented full and partial bans on face veils. Germany is expected to be next. In April, the German parliament passed draft legislation that would prohibit women from wearing the niqab or burqa in public places and prevent civil servants, soldiers and judges from wearing the full face veil at work. 
The intent of these laws is generally framed as an effort to help Muslim women, but opponents of the new law in Austria argue that a burqa ban would be counterproductive in Austria's integration efforts for immigrants and would also be far more harmful to the Muslim women they intend to protect. 
Manal Omar, a fellow at the Truman National Security Project, said that bills placing restrictions on women's bodies — like the full-face veil ban — run the risk of isolating Muslim immigrant women rather than aiding them in successfully integrating into European society. 
"Once more, we see where the state wants to control women's bodies rather than address the root issues," Omar said in Facebook Messenger. "The bans on burqa push Muslim women out of the public squares, and only serves to further complicate integration and marginalize communities." 
Rim-Sarah Alouane, a Ph.D. researcher for public law at University Toulouse- Capitole, doubled down on Omar's sentiments. Alouane argues that by criminalizing — rather than conciliating and accommodating — the burqa, the Austrian government have worsened the situation for women who are forced to wear full-face veils. 
"The legislature and the government worsened the situation of women who are forced to wear the [burqa or niqab] by forcing them to stay at home and disappear from public life all together," Alouane said, referring to more traditional families who could be reluctant to let female family members leave their homes without their head coverings.
Dalia Mogahed, director of research at the Institute for Social Policy and Understanding, believes the European country's burqa ban has little to do with helping Muslim women. Instead Mogahed said it has more to do with stoking anti-Muslim sentiment or an the Austrian government's attempt to appease the right-wing Freedom Party.
"It's important to note how few women in Austria actually wear a "burka" that to pass a law banning it is far more about stoking anti-Muslim sentiment for political gain than any concern for women in Burkas," Mogahed said in an email. "For those women that are impacted clearly, this forces them to choose between engaging in the public square or adhering to a sincerely held belief. Forcing this kind of a choice is the definition of marginalization."
Austrian President Alexander Van Der Bellen has voiced some opposition to the bill. "It is every woman's right to always dress how she wants," he said when speaking to a crowd of students in March. Van der Bellen said he does support a veil ban for women who hold judicial positions in the name of "professional neutrality," but still believes freedom of expression is a fundamental right for all people.  
"It is every woman's right to always dress how she wants," Van der Bellen said. The president added that a ban on religious symbols would only be justified if it was applied to all faiths, including the Christian cross and Jewish kippas.
Unfortunately, Van der Bellen does not have the power to reverse the burqa ban. Unlike most European countries, the Austrian president does not have the right to veto legislation unless there was a procedural error in the way the bill was passed.