Roger Ailes is dead. The right-wing money-making machine he created will live on.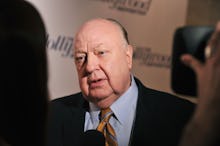 Amid an increasingly fraught political inflection point, President Donald Trump's biggest media cheerleader has suffered another blow with the death of its influential and controversial founder, Roger Ailes.
Ailes, whose wife Elizabeth issued a statement Thursday confirming his death at age 77, left the company amid a sexual harassment scandal in July, and his death will surely rock the channel, which is already reeling this month from the departure of Bill O'Reilly, one of its highest-rated hosts, and one of its co-presidents.
Upheaval is in the air at Fox, but Ailes' death — like the other happenings there — is unlikely to change the tune of Fox News, as some Democrats and critics might hope. In fact, Ailes' influence on cable news and in the conservative media landscape will continue to live on — and it might become even more pronounced as those loyal to him seek to honor his legacy.
Ailes, who helped former presidents like Richard Nixon and Ronald Reagan with their media communications strategies, had a keen understanding of GOP messaging and the best ways to attract and build a loyal, malleable audience. His strategy at Fox News — which often included dressing beautiful women in revealing outfits while delivering conservative messaging — was a hit, and under Ailes' leadership Fox News blossomed into a conservative media powerhouse that Republican and Democratic politicians alike could not afford to ignore.
That approach has richly rewarded the network with billions in advertising dollars, an indicator to why Fox executives might not rethink their strategy.  
Speculation as to the future of Fox News began in July, when Fox was rocked with controversy after former Fox anchor Gretchen Carlson accused Ailes of sexual harassment in a high-profile lawsuit. While Ailes repeatedly denied the allegations, the scandal prompted an internal investigation at the company. More than a dozen current and former employees alleged similar mistreatment, prompting Ailes' resignation from the company.
Amid Ailes' departure, other changes were happening that would affect Fox's primetime lineup. Megyn Kelly, the popular host in Fox News' primetime slot, announced she would leave the company, and she later claimed in a memoir that Ailes had offered to elevate her career in exchange of sexual favors. At the same time, another Fox News anchor — Greta Van Susteren — also departed, using a clause in her contract that allowed her to leave if Ailes did.
Amid the turmoil, speculation swirled that Fox News' politics might change with the departure of Ailes. But Fox News' parent company assured investors that Fox News would remain as it had been.
"There's no desire or need to shift the position that is has in the market," Lachlan Murdoch, 21st Century Fox's executive chairman and the eldest son of media titan Rupert Murdoch, said in August.
The company has faced other dramatic changes, most recently when one of Fox News' biggest stars Bill O'Reilly was also booted from the network amid reports that he had sexually harassed and mistreated women at the company.
Following O'Reilly's departure, Fox News co-president Bill Shine, who had continued to advance Ailes' political ethos at the company, also handed in his resignation, after he was accused in several lawsuits of allowing workplace harassment to occur unabated.
But on-air, little has changed. Tucker Carlson, a right-wing pundit who quickly rose the ranks at Fox for going after the "mainstream media," replaced O'Reilly in prime-time, and the network rolled out another prime-time panel show that includes provocateur Jesse Watters and Trump defenders like Kimberly Guilfoyle and Greg Gutfeld. Sean Hannity, an ardent Trump supporter who once appeared in a Trump campaign commercial, remains one of Fox News' highest profile hosts.
Ailes' death will continue to impact those at Fox News who were loyal to him, and his absence will be felt both at the network and within the GOP. But his death does not mark an end to the Fox News that so many love — and that so many love to hate.
The better indicator as to whether Fox News will change, instead, is the health of its business. Amid a firestorm of negative reports this week involving Trump and his former national security advisor, Michael Flynn, Fox only tepidly approached the story, with its opinion hosts claiming that the stories from the "mainstream media" were false. That approach wasn't good for Fox's primetime ratings, and in a rare occurrence for the cable network, it came in last in primetime cable ratings behind both CNN and MSNBC.
Ailes was long ago sewn into the fabric of the network, and as his July departure already showed, the network is capable of continuing his approach without him, for better or for worse.