What Melania Trump wore her 17th week as first lady — the 2 times she emerged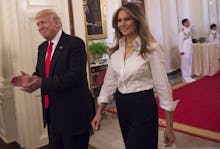 After yet another week of Melania Trump missing, we're pleased to report that she has emerged once more. And by "once more," we actually mean twice more.
On the afternoon of Friday, May 12, after our own weekly style roundup for her was published, she popped back up in the White House, and now today, May 19, she's at it again. 
What the few sightings this week do is actually prep us for next week, when she is expected to appear several times as she travels with her husband for the first time abroad, to Saudia Arabia, Israel, Rome, Brussels and Italy.
But for now, here is what she wore. 
Friday, May 12: Ralph Lauren (again) for a Mother's Day event 
Just a few hours after our weekly Melania fashion roundup was published, Trump appeared at the White House for a Mother's Day celebration of sorts, held in the East Room for military mothers. 
To that event, she wore a crisp white shirt, black pants with buttons by Ralph Lauren and white shoes with crystals believed to be Dolce & Gabbana. 
Friday, May 19: An orange pencil skirt for a White House exit 
Upon exiting the White House on May 19, Melania Trump appeared in a white long-sleeve sweater by Max Mara and a rather shockingly orange leather pencil skirt by Hervé Pierre, who helped design Trump's inaugural gown. 
As far as colors go, this is her first attempt at orange, but as far as silhouettes go, it's still pure, 100% Melania Trump. 
Admittedly, both of these outfits, as with many of Trump's fashion choices, were entirely predictable. For the most part, she stays within her favored silhouette (that waist!) and palette of black and white and shades of red and navy. 
She prefers classic over trendy, and safe rather than risky, which isn't really a bad thing when you're one of the most public women on Earth. 
You can see previous recaps of what Melania Trump wore here.