Impeachment marches will fill the streets in July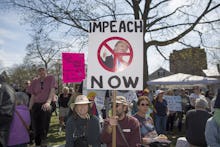 There are multiple roads that could lead to President Donald Trump's impeachment. Accusations of treason, collusion with Russia, financial conflicts of interests — any one of them could be fertile ground to make the impeachment case. 
And all of them will be accounted for when activists take to the streets in July.
On July 2, there will be marches demanding Trump's impeachment in at least a 20 across the country. Organized by a group of activists based in Los Angeles, the nationwide demonstration will demand Democrats take immediate action — that is, if impeachment doesn't come first. 
"We want impeachment," Stephanie Tatro, one of the central organizers of the Impeachment March, said in an interview.  "A handful of our reps haven't been shy about speaking out against Trump, and we support them, we want them to continue to take strong action toward impeachment."
So far, the biggest march will be in Los Angeles where Tatro and her fellow organizers worked on the Tax March. They also worked with Indivisible, the grassroots protest group leading the disruptions at Republican town halls over the past three months.
But even without much promotion, there are already a number of sister marches in the works in cities like New Orleans, Phoenix, Cleveland and San Diego. It's a young project, and the organizers are seeking out larger left-leaning partners to help grow their small movement. They hope to see local groups across the country glom on and start their own marches. 
Then again, there's a chance — however slim — that marchers may hit their goal before they hit the pavement. The national news cycle is a constant litany of stories about allegations of malfeasance within the Trump administration, and numerous Democrats, and even some Republicans, have discussed the possibility of Trump's impeachment.
"I don't think he'll be impeached," Matt Schoenberger, one of the coordinators of the New Orleans march, said in an interview. "But if he is, the march will probably end up being a celebration."