Look out, Vermont. New York wants to be the next great craft beer state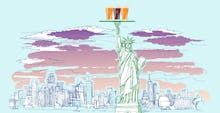 Better known for its booming metropolises and scenic upstate towns, New York is not widely considered a vacation spot for beer lovers. But New York Governor Andrew Cuomo wants to change that by reviving brewery culture across New York to further boost tourism. 
In May, the governor's office promoted the state's brews by putting on the first Taste NY Craft Beer Challenge, a competition between New York breweries that attracted 42,000 votes. More people cast votes for the inaugural craft beer challenge than voted for Cuomo, the governor joked in his remarks to the crowd gathered at Pier A in New York City on May 22. (Cuomo received over 2 million votes in 2014, but the 42,000 beer challenge votes are still significant.) 
The top five finalists were first selected by an online vote, and at the event, two breweries — Ommegang Brewery in Cooperstown and Roscoe Beer Co. in Roscoe — tied for the top spot. The competition was judged by an expert panel including celebrity chef Mario Batali and former Buffalo Bills player Thurman Thomas. (Governor Cuomo recused himself from judging, claiming he could not vote against any New York brewery.) 
Why beer?
It's not that New York's tourism options have fallen flat — the state has plenty of cultural and outdoor adventures. Food lovers can dine at some of the best restaurants in the world in Manhattan, outdoorsy explorers will dig the mountains in the Adirondacks and Catskills, and skyline gazers will have no trouble finding sights to photograph. 
Yet Cuomo has been pushing hard for tourists and locals alike to drink up, and drink New York. The governor's father, former Governor Mario Cuomo, was celebrated for supporting local wineries, and the current governor has helped streamline costs and paperwork for craft breweries, too. He's so pro-booze, he's even proposed allowing beer and wine in New York movie theaters. 
When does a groundswell of New York breweries turn a state into a bona fide beer destination? Opinions vary. 
"If you asked me [whether New York is a beer destination] about 10 years ago, the answer would have been a resounding no," Josh Bernstein, a Brooklyn-based beer and spirits writer, said in a phone interview. He noted that many cities like Portland, Oregon, and Portland, Maine, have more developed brewing scenes. New York is catching up and is "gradually becoming an exciting place for great beer," Bernstein said. 
"New York is absolutely known as a brewery destination," Julia Herz, craft beer program director for the Brewers Association, said in an email. "World-renowned restaurants including Eleven Madison Park, Gramercy Tavern and so many others are investing in advanced beer programs that include NY State beer because beer has become so desired in pairing."
But according to recent data, New York isn't making as much of an impression when it comes to beercations. Travelocity ranked the top spots for beer tourism in the U.S. in 2016, and major cities in New York were absent from its lists of best small and large metro areas for beer. 
New York is  home to 269 craft breweries, which is a 542% increase since 2011.
Keith Nowak, director of communications for Travelocity, said in an email that New York City metro area scored low because the city's dense population depressed the "brewery per capital" metric, even though it did well on metrics like public transportation and breweries.
Regardless of the state's population density, New York has an impressive sprawl of breweries. The state is now home to 269 craft breweries, which is a 542% increase since Cuomo took office in 2011. (Only Colorado, Washington and California currently have more craft breweries.)
The craft beer industry as a whole has been getting a lot of love in the past few years — sales of craft beer rose 6.2% in 2016 while overall U.S. beer sales was flat. From 2009 to 2016, there was a 228% increase in the number of U.S. craft breweries. 
In New York, Cuomo spurred growth by making it easier for breweries to earn money. He removed several archaic rules that date back to Prohibition with the Craft Act of 2014, which allowed breweries to sell beer out of their taprooms. Previously, brewers had to open a separate business and battle a lot of bureaucratic red tape in order to serve beer by the glass.  
"The Craft Act in 2014 ... changed everything," Paul Leone, executive director for the New York State Brewers Association, said in an email. "The tasting room is where their highest margin of profitability is, and where the connection is made with the consumer; it's the heart of each brewery and critical to their success." 
"New York state has distinct brewing regions that you can dive into if you want to get really great, cloudy, hazy IPAs or sour, funky wild beers. or a clean, crisp Pilsner." -Josh Bernstein, beer and spirits author
In towns with small populations, the taproom is more important than ever. Roscoe Beer Co., one of the winners of the Taste NY Craft Beer Challenge, is located in a town with a population of 541. Up to 80% of customers at Roscoe Beer Co. are out-of-towners during high tourism seasons, Josh Hughes, Roscoe Beer brewmaster, said in an email, explaining that many tourists flock to the region for the fishing and outdoor scene. Roscoe Beer Co. beat out many larger and more recognizable New York breweries in the Taste NY challenge. 
While it might not be the initial entry point, tourists are still likely to seek out local beer, whether at breweries or bars. "New York state has distinct brewing regions that you can dive into if you want to get really great, cloudy, hazy IPAs or sour, funky wild beers, or a clean, crisp Pilsner," Bernstein said, noting that distinct and unique beer scenes have emerged in Long Island, Hudson Valley and other regions.
Certain breweries are already becoming must-visit stops. Thirsty people line up around the block in Brooklyn for new beers from Other Half — and many arrive as early as 6 a.m. to get their hands on limited release cans. Other Half is listed as number 48 of 223 things to do in Brooklyn on Trip Advisor, but these crowds rival those for the cronut or Hamilton tickets.  
"You see people drive in from three, four, five, six hours away just to buy the beer at can releases," Bernstein said.  A passionate community already thinks the limited-release beers merit a six-hour drive, and if all goes according to Cuomo's plan, New York brews may someday be worthy of a cross-country flight.