Nintendo hopes you'll spend $5 on a 'Splatoon 2'-themed cardboard box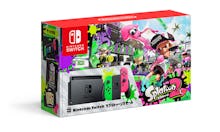 If you thought the hottest new thing out of Nintendo was its new console, the Nintendo Switch — oh boy, have we got news for you. Are you ready? 
Nintendo's Japanese site is now selling a standalone cardboard box for the Splatoon 2 Switch bundle. Yep, you read that right. Not the console. Not Splatoon 2. Just the box. It costs 540 yen, which is about $5.
If you're scratching your head, you're probably not alone.
Nintendo Japan sells the box for Splatoon 2 Switch bundle
According to the product page, this box is "recommended for Splatoon fans who already have Nintendo Switch," but Twitter user @BendingUnit99 had more sinister idea.
"The perfect X-Mas gift," they said. "Just put something inside for some weight, gift wrap and place under the tree. Awesome."
More seriously, however, Twitter user @E3NintendoBot suggested that it might be appealing to ravenous collectors who have a relatively easy time finding these limited-time console bundles, but have a much harder time finding their original packaging.
Regardless of the reasoning behind it, some people have already voiced their excitement for this pretty baffling product, if you can believe it.
Nintendo also offers "game card-free" version of Splatoon 2
This whole "selling the packaging without the thing itself" thing actually seems to be somewhat of a trend for Nintendo. Also available for purchase on its site is a "game card-free" version of Splatoon 2, which is an empty Splatoon 2 case with a digital download code. 
It's for customers who want to purchase the digital version of the game, but still want to own the game box itself, according to Kotaku.
Different strokes for different folks, I guess.
More gaming news and updates
Check out the latest from Mic, including our list of video games that made fun of their players, a personal essay about dealing with anxiety through Breath of the Wild, a look at the racist and sexist experiences in esports and a plea for better character customization options for black characters.