Fresno gay man Imer Alvarado murdered, friends refute reports he was a trans woman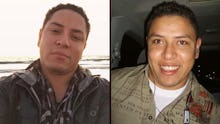 After the shooting of 34-year-old Imer Alvarado in Fresno, California, friends of Alvarado's are contradicting reports from local outlets that Alvarado identified as transgender, KSEE/KGPE reports.
According to KFSN, security footage showed a scuffle between Alvarado and the shooter before Alvarado was shot and fell to the ground. Several cars passed Alvarado by without stopping to help. 
Initial news stories and the Fresno Police Department identified Alvarado as transgender, though several friends who spoke to Mic said that Alvarado was a gay man. Roy Abueg, a friend of Alvarado's since 2004, said in a phone interview that Alvarado often dressed in women's clothing. 
Sources who spoke to Mic indicated they believed that Alvarado was dressed in drag at the time of his death. KFSN later reported that detail as well. 
Abueg, who is deaf, said he made friends with Alvarado, who was hard of hearing, and whose hearing was diminishing over time.
Abueg said that Alvarado "struggled" with his deafness and with having to eventually adopt the deaf identity. 
"He was kind of disappointed that he lost [his] hearing because he sometimes can't hear well and he was afraid to become fully deaf because he loved to listen to music," Abueg said in a private message. 
Despite that fear, Abueg described Alvarado as a "wonderful support" to other people living with disabilities. 
Another friend and drag queen, Patricia de Leon, also said that Alvarado was a gay man who sometimes dressed in drag. She described Alvarado as a "loving, happy guy" who "befriended many people" in the local LGBTQ community. 
In a post to his personal Facebook page, Abueg said that he would head over to the spot where Alvarado was killed for a vigil on Thursday evening. The post was given in American Sign Language. 
Reporter Justin Lum posted a picture from a vigil that was held on Wednesday night for Alvarado. 
Several people on Alvarado's personal Facebook page also asked that people recognized that Alvarado did not identify not transgender. 
Regardless of his gender identity, friends say Alvarado's death is shocking.
Abueg said that Alvarado's gay identity and his hard-of-hearing status made Alvarado feel strongly that everyone deserved equal treatment. 
"It's unbelievable that somebody can just kill somebody like that. Nobody deserves to die this way regardless of who you are, regardless of what you do. Nobody deserves to be killed in the street," Christian Beltran told KSEE/KGPE.
On Thursday evening, members of the local deaf community gathered at the location of Alvarado's death to hold a vigil. 
Police are currently searching for a single male suspect. According to KFSN, it is unclear whether authorities will pursue hate-crime charges.
Fresno Police Department investigated the death of transgender woman K.C. Haggard in 2015, BuzzFeed reported. The FPD has a history of misgendering people who have been killed. At the time of Haggard's death, Lt. Joe Gomez, a spokesman for the Fresno Police Department, told BuzzFeed, "All I know is that it was a male dressed as a woman." Police then misdentified Haggard as a man. 
The Fresno Police Department did not immediately respond to a request for comment.