Donald Trump denies asking James Comey to end the Flynn investigation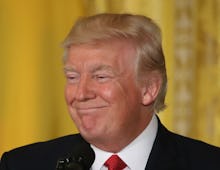 On Thursday, President Donald Trump categorically denied that he ever asked now-former FBI Director James Comey to end the investigation into his former national security adviser Michael Flynn.
"No, no," Trump said at a news conference at the White House when asked point blank whether he asked Comey to end the investigation.
Trump's denial goes against Comey's own recollection of a one-on-one conversation with Trump in the Oval Office.
Comey kept a memo of the conversation, in which he recalled Trump telling him, "I hope you can see your way clear to letting this go, to letting Flynn go. He is a good guy. I hope you can let this go."
Trump also doubled down on the reason why he fired Comey in the first place, saying he followed the recommendation of Deputy Attorney General Rod Rosenstein to let Comey go.
Yet, shortly before Trump's press conference, Rosenstein told members of the Senate in a closed briefing that Trump had already made up his mind to fire Comey before Rostenstein made his recommendation.
The entire brouhaha has led Rosenstein to appoint a special counsel to handle the investigation into the Trump campaign's alleged ties to Russia.
Trump is no fan of the special counsel, declaring there was "no collusion" between his campaign and Russia and calling the investigation a "witch hunt."