Sweden drops rape investigation into Julian Assange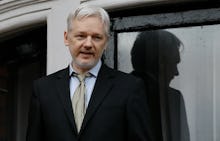 Swedish prosecutors announced on Friday that they plan to drop a nearly seven-year-long investigation involving rape allegations leveled against WikiLeaks founder Julian Assange, the Associated Press reported.
Assange has lived in the Ecuadorian embassy in London since 2012 to avoid extradition to Sweden over the charges, which he claims are untrue. He also feared that criminal charges might result in further extradition to the United States, where he has long seemed likely to stand trial for publishing secret military files relating to America's wars in Iraq and Afghanistan.
Wikileaks exploded into the public consciousness in 2010 after former United States Army intelligence analyst Chelsea Manning used the covert document sharing service to publish thousands of pages of military secrets.
Initially sentenced to 35 years in prison for the leaks, Manning's jail time was commuted by former President Barack Obama during his final months in office. On May 17 — just two days before news of Sweden dropping its investigation into Assange broke — Manning walked free.
But last month, U.S. officials with knowledge of the matter told CNN that authorities were preparing charges against Assange for his involvement in the unprecedented leak.
Assange's lawyer, Barry Pollack, said in an interview with CNN that the Department of Justice had given his team no indication as to whether or not charges would be brought against Assange.
"They've been unwilling to have any discussion at all, despite our repeated requests, that they let us know what Mr. Assange's status is in any pending investigations," he said. "There's no reason why WikiLeaks should be treated differently from any other publisher."
On Friday, London's Metropolitan Police Service confirmed that Assange was still being sought in the United Kingdom for failing to surrender to a court, but would not confirm or deny whether an extradition request from the U.S. had been received, the BBC reported.
"U.K. refuses to confirm or deny whether it has already received a U.S. extradition warrant for Julian Assange. Focus now moves to U.K.," Wikileaks tweeted on Friday.
Shortly after the end of the Swedish investigation was announced on Friday, Assange posted a smiling photo of himself to Twitter, sans caption.
This story is breaking and will be updated.