'Overwatch' Anniversary Skins: Fans roast the new event skins on social media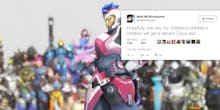 Now that the new Overwatch Anniversary event is nearly upon us, Blizzard has finally started teasing the new skins, maps, emotes and other cosmetic items that fans will be able to get their hands on starting May 23 — but not everyone is on board just yet.
That's particularly true for the four new skins that Blizzard recently revealed for Soldier: 76, Bastion, Zarya and Pharah. But hey, at least the rage memes are pretty great.
Overwatch Anniversary skins: Fans aren't impressed
In case you haven't seen them yet, here's the short video posted on the Overwatch Korea Twitter account that teases four of the new event skins:
OK, so Bastion looks like a go-kart mixed with the Pixar lamp, Soldier: 76 has weird robo-legs, Pharah's rocking yet another plain, blue ensemble and Zarya is an interstellar Power Ranger with a gold lion mask? Got it. Let's check in with the community and see how they feel.
Sounds about right.
To be clear, these skins were not "leaked" as the above post says. They were teased through official Blizzard social media accounts. But, yeah — still ugly.
The pain seems especially potent for Zarya fans, who have long felt that her skins are lackluster in comparison to those for other heroes — especially when her character in Blizzard's other game, Heroes of the Storm, has skins that look like this.
It's not just Zarya fans who are disappointed, though. The pain is real for Soldier: 76 fans, too, who think his weird, shiny head looks more goofy than it does badass.
Of course, the new skins have their fans too — though they definitely seem to be in the minority for now.
Oh well. At least the fans know Blizzard is trying its best.
Blizzard is sure to reveal more about the Overwatch Anniversary event in the time leading up to May 23. We'll keep you in the loop as the updates roll in — especially if the next skins it reveals are actually good.
More Overwatch news and updates
For more on Overwatch, check out the rest of what Mic has to offer. Here is an essay about how Efi Oladele was a missed opportunity for Overwatch, a deep dive into the issue of sexual harassment in Overwatch voice chat, an unintentionally hilarious infographic showing the most popular Overwatch characters in each state, a criticism of Blizzard's failures in its design of Symmetra and a dive into a cool trend on Tumblr that converts your most-played heroes into a psychedelic illustration.