Donald Trump leaves today for his first overseas trip as president. Here's what to watch.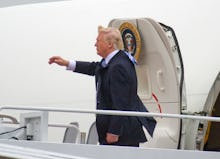 How do you get Donald Trump prepared for his first overseas trip as president?
Weave his name through the briefing memos to maintain his focus.
That's what aides to Trump — attempting to get him ready for the foreign policy issues that will arise during his nine-day adventure abroad — have resorted to doing with the one-to-two page memos he's so far merely skimmed, the New York Times reported. 
Trump is reportedly not looking forward to leaving Friday. Already averse to unfamiliar places and experiences, Trump has recently been battered by bombshell after bombshell after bombshell of bad news, plunging his presidency into a chaos that will almost certainly shadow him on his five-city trip. The trip itself will be sure to present challenges of its own as he meets with world leaders who may be wary of his nationalistic vision.
Here's what you need to know about Trump's first international trip as the president of the United States.
An "easy trip"?
After he leaves Friday evening, Trump will travel to Saudi Arabia, Israel, the Vatican, Italy and Belgium. 
In trips to the major religious centers, administration officials say Trump will seek to remind "people the world over to understand we are in this together," as Secretary of State Rex Tillerson put it. 
"This is not a battle about religions. This is not a battle about cultures," Tillerson said. "This is a battle about good and evil. And their – the goodness of people of all faiths will prevail over this evil."
He'll close the trip with summits in Sicily and Brussels.
As a "relationship-building trip" to meet largely with leaders friendly to the U.S., the excursion should — James B. Steinberg, an Obama administration diplomat, told the Times — be an "easy" one.
"A trip like this is an easy trip," he said. "There's no crisis. It's a relationship-building trip. It's hard for it not to be a success unless something goes wrong."
Something, of course, could go wrong
Trump, NPR noted, is known as a "homebody" — preferring the familiar surroundings of Trump Tower and other properties he owns so he can sleep in his own bed, eat foods he knows and have the room at the exact temperature he prefers. 
According to the Times, Trump has been grumpy about having to embark on the trip, his first to a non-Trump property since assuming office — and even yelled at an aide because he felt that the nine days away from home would be too long.
The Associated Press reported that the countries he'll be visiting are working to accommodate the travel-averse president. In Saudi Arabia, for instance, caterers aren't just preparing a traditional menu of lamb and rice — they'll also have what is somehow Trump's favorite meal of steak and ketchup at the ready.
Still, it's not only his own lack of enthusiasm about international travel that poses a challenge for the president. Trump — who is also known for his dislike of briefing memos — has apparently struggled to pay attention to the aides seeking to prepare him for his meetings with leaders more versed than him in global affairs.
That unpreparedness — combined with his tendency to stray from the script and his unpredictability — has aides concerned that he'll "commit the United States to something unexpected," the New York Times reported. The trip comes on the heels of reports that advisers are afraid to leave Trump alone with foreign leaders over concerns about what he might say.
"You have to be prepared. These things tend to be heavily prepared on both sides so everyone knows what the expectations are," Steinberg told the Times. "The fact that he doesn't go in for the typical preparations complicates these things."
The shadow of Trump's scandals
Trump will not likely be able to travel far enough to escape the shadow of the chaos that has engulfed his administration in recent weeks.
Since firing former FBI Director James Comey on May 9, each day has delivered a new, large-scale scandal — including revelations that he shared classified information with Russian officials in a White House meeting and that he apparently asked Comey to kill his investigation into former national security advisor Michael Flynn, who resigned in a Russia scandal less than a month into Trump's presidency. 
Those controversies — which have earned him comparisons to Richard Nixon and led to open speculation about the possibility of impeachment somewhere on the horizon — aren't likely to go away while Trump's traveling, according to NPR.
"There's essentially no escape from domestic politics for presidents no matter where they are," NPR reported.
The chaos has already clouded aides efforts to get him prepared for the trip, according to the Times, and if he's looking for a breather while abroad, he's not likely to get it.
"You really hope that he sticks to the script, executes the trip as planned and avoids distractions, because the whole world is watching," Stephen Hadley, national security advisor to George W. Bush, told the Times.