Man who plowed car into crowded Times Square sidewalk charged with murder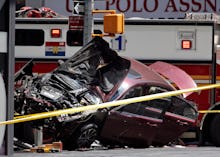 A man who drove his Honda Accord into a crowded sidewalk in Manhattan's Times Square on Thursday, injuring 22 people and killing one woman, has been charged with murder, CNN reports.
Stunned onlookers reportedly watched as a maroon car barreled down a crowded stretch of New York City's 7th Avenue on Thursday, swiping pedestrians and eventually ramming into a curb. Alyssa Elsman, an 18-year-old woman who had been visiting the city from Portage, Michigan, was killed, and four people were in critical condition on Friday, officials told CNN.
Law enforcement sources told CNN that the suspect, 26-year-old Bronx resident Richard Rojas, explained to police that God made him do it. He also  tested positive for PCP, police said.
Rojas had reportedly been arrested twice before for drunken driving in New York, once in 2008 and again in 2015, New York Police Commissioner James O'Neill said.
The Thursday incident caused panic on one of New York's most crowded thoroughfares. City officials quickly characterized the crash as an "isolated incident" with no larger connections to terror.
In a press release, the New York City Police Department said that, in addition to the murder charge, Rojas faces 20 counts of attempted murder and five counts of aggravated vehicular homicide for the death of Elsman and for the four people who remain in critical condition, all of whom are expected to survive.