This size 2 model claims she was booted from a Louis Vuitton show for being "too big"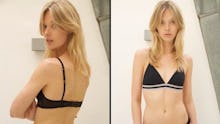 In the past few years, an increasing number of models have stepped up to put certain facets of the fashion industry on blast. Model Nyadak Thot spoke out about how models with natural hair are treated. Leomie Anderson spoke out about how women with darker skin are treated. And now Ulrikke Hoyer, a Danish model who has walked for Chloé and Stella McCartney, is speaking out about how models are treated when they're not skinny enough. 
In a lengthy Facebook post, Hoyer chronicles what happened when she was deemed "too big" for Louis Vuitton's 2018 resort show, which took place on May 14 in Japan. 
Hoyer begins by stating that she understands that maintaining a certain weight and measurements is part of her job. She's been modeling for years, so she gets that, but this Louis Vuitton ordeal was too much even for her. 
"I've been used to high expectations and also to gain a good understanding of nutrition and hard training, and therefore I also know that the demands and expectations that [are] given to the high-end fashion models in the industry are often completely unattainable and directly damaging to the human body," Hoyer wrote. 
Then she gets into specifics: In April, Hoyer was contacted by Louis Vuitton for their show in Japan. She was measured in Paris, with her hips measuring 92 centimeters. She understood that that may be a bit too large for Louis Vuitton, so then she attempted to, in just a matter of days, lose as much weight as she could, dropping to a hip measurement of 91.5 centimeters before leaving for Japan. 
At the time, she was a size 34/36, which translates to a size 2/4 in the U.S. 
When she got to Japan though, Hoyer was faced with a series of conversations with casting agents involved with Louis Vuitton's show, all of whom were concerned with her weight. 
"According to [a casting agent] I had 'a very bloated stomach,' 'bloated face,' and [she] urged me to starve myself with this statement: 'Ulrikke needs to drink only water for the next 24 hours,'" Hoyer wrote. "I was shocked when I heard it. This was exactly what we have wanted to avoid when we tried to cancel because I was 'bigger.'"
Hoyer nearly obeyed this order, but that still wasn't enough. The next day, she was told that she wouldn't be walking in the show, for a number of reasons all involving how she looked. 
"Not only did I have a belly, my face was puffy now, also my back was a problem," Hoyer wrote. "They now thought that I fitted the dress on my back differently than in Paris (also saw this on an email at my agency when I came back). I didn't know whether I should cry or laugh." 
What Hoyer describes in her post is nothing new. Late last year, famed casting director James Scully started to bring these stories of model abuse to light, at industry events and on Instagram, where he broke the news that Lanvin had barred models of color from its castings and Balenciaga had made models wait three hours for their auditions, part of that time reportedly in the dark. 
But according to Hoyer, this Louis Vuitton show is her breaking point in terms of just how much abuse and harassment she can face as a model. 
"I cannot accept the 'normality' in the behavior of people like this," Hoyer wrote. "I am aware that I'm a product, I can separate that, but I have seen way too many girls who are so skinny that I don't even understand how they even walk or talk. It's so obvious that these girls are in desperate need of help. It's funny how you can be 0.5 [cm] or 1 cm 'too big' but never 1 to 6 cm 'too small.'"
Mic has reached out to Hoyer and Louis Vuitton for further comment and will update when we hear back.