Sweden has dropped its rape charges against Julian Assange. But his troubles aren't over.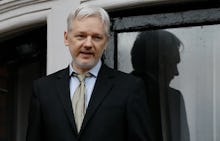 On Friday, Swedish prosecutors declared that they plan to drop an almost seven-year-long investigation into rape allegations against Wikileaks founder Julian Assange. They cited a lack of progress on the case as the reason for the cessation of the investigation. 
Assange, who has been living in London's Ecuadorian embassy since 2012 to hide from Swedish authorities, may not have to fear arrest from Swedish authorities, but his legal woes are not over. Several international powers still have their eye on nailing the whistleblower for a bevy of charges. 
If Assange does leave the comforts of the embassy, he might not be able to make it past his front door. In a statement, a British police spokesperson told the Independent that, were Assange to appear in public, officers would seize him for failing to appear in court.
"Westminster Magistrates' Court issued a warrant for the arrest of Julian Assange following him failing to surrender to the court on the 29 June 2012," the statement reads. "The Metropolitan Police Service is obliged to execute that warrant should he leave the Embassy."
Outside the U.K., the United States Justice Department is still wrestling with whether to charge Assange for leaking documents that they claim compromised national security, the New York Times reported. 
Attorney General Jeff Sessions has claimed that Assange is a priority for the department, the Times reported. 
Assange published documents supplied by Army intelligence analyst Chelsea Manning, who was freed from prison on Wednesday after serving seven years of a 35-year sentence.