'Arms' Global Testpunch Demo Characters Revealed: Who you can play as during the event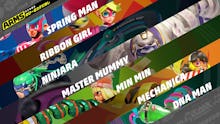 The Arms Global Testpunch beta on Nintendo Switch will be many gamers' only chance to play the game ahead of release date. Unfortunately, not every Arms character will be available to use during the demo period. If you're wondering which exactly Arms characters you'll be able to use, the answers have finally been revealed. And no, Twintelle is not one of them.
Arms Global Testpunch Characters: The announced roster of fighters
Arms Global Testpunch's list of characters was revealed in a tweet by the game's official Twitter account early on May 19. Here's who you'll be able to fight as during the event:
• Spring Man
• Ribbon Girl
• Ninjara
• Master Mummy
• Min Min
• Mechanica
• DNA Man
None of the new characters introduced during Nintendo's May 17 Direct announcement will be usable during the worldwide beta. Fans of the game will have to wait for full release before being able to use newer Arms characters like Kid Cobra, Byte & Barq and Twintelle. 
What dates will the Arms Global Testpunch take place?
Arms Global Testpunch will occur during six different days in May and June. The dates are as follows:
• May 26
• May 27
• May 28
• June 2
• June 3 
• June 4
Arms global beta kicks off on May 26 at 8 p.m. Eastern, according to the eShop. 
May 23, 2017, 1:30 p.m. EDT: This story was updated
Check out more Nintendo news and coverage
Looking for more Nintendo Switch news? Check out how blind gamers are using the Nintendo Switch and why you can't get your Mii to look quite like you. Nintendo's left Joy-Con issue turns out to be a hardware problem — here's how to solve it. Find out how to buy a console amid the recent restock. Learn why the Switch cartridges taste so bad. Check out our comparison photos sizing up the Switch to the Wii U GamePad (part one and part two), or find out how to make use of ethernet without the dock and the best way to get alerts when new stock arrives.