Destiny' Xur Location May 19 to 21: Where to find Xur and what inventory he's selling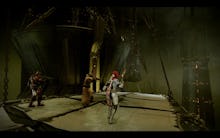 It's that time of week for the wispy tendril-faced Agent of the Nine Xur make an appearance at one of Destiny's player hubs. He'll be around until early on Sunday, May 21. He's all too happy to sell you some exotic gear for those Strange Coins you've collected while out showing the galaxy the business end of your gun. 
If you're having difficulty finding Xur this weekend, we've got you covered with his location and his inventory.
Destiny Xur Location May 19 to 21: Where to find him and what he's selling
According to Where Is Xur, the source for all things Xur, the mysterious robed Agent of the Nine is hanging out in the Tower. He's hanging out on the far left-hand side of Tower North, near the Speaker. Head straight as you run out of the hallway toward Tower North, and you should see him chilling in a spot that overlooks the city, just across from Eva Levante, the armor shader vendor.
This week, Xur's inventory includes:
• Eternal Warrior, a Titan helmet
• Skyburner's Annex, a Hunter Helmet
• Heart of the Praxic Fire, a Warlock chest piece
• Bad Juju, a hip fire-focused pulse rifle
You should pick up Bad Juju if you don't have it yet. Its signature ability String of Curses auto-reloads your clip, gives you a temporary damage boost and helps to charge your super if you score a kill while it's active. Even if you're not a fan of pulse rifles, it's a good investment.
If you're still a little confused as to where to find Xur, or just want to see his complete inventory, this YouTube video from Sakred Gaming should scratch that itch:
Xur's in town until early May 21, (9 a.m. UTC to be exact) so you should grab anything you want from him this weekend by late Saturday night, just to be safe.
More gaming news and updates
Check out the latest from Mic, including our list of video games that made fun of their players, a personal essay about dealing with anxiety through Breath of the Wild, a look at the racist and sexist experiences in esports and a plea for better character customization options for black characters.