Former Uber employee said he was fired for defending his female colleagues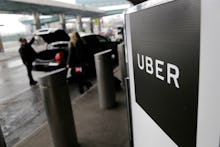 When a male ally voicing his female colleagues' concerns about sexual harassment is fired, it does not inspire faith in women to speak up. That's what allegedly happened at Uber in March 2016.
According to a Department of Fair Employment and Housing complaint filed against Uber, a male employee was subjected to a "retaliatory investigation" and ultimately terminated after standing up for a number of his female colleagues who said they were subjected to sexual harassment and discrimination by a male supervisor.
The complaint, first surfaced by RevealNews, says that the former employee brought up his female colleagues' concerns "on several occasions" with the company's human resources department. HR told him that they "get a lot of phone calls from employees that we don't always act on." The investigation took place soon after that, and in March 2016 he was fired.
Retaliatory behavior is not unprecedented for the ride-sharing company. Former Uber employee Susan Fowler sparked the conversation around Uber's sexual harassment and gender discrimination issues when she wrote about her experiences at the company in a blog post that went viral. After it was published, Uber hired an attorney to investigate her claims. The company also briefly used her name in emails to customers who were deleting the app in protest.
This also isn't the first report indicating Uber's negligence in addressing sexual harassment and discrimination issues. Recode reported that board director Ryan Graves, who was the head of operations during former Uber employee Susan Fowler's tenure, acted as the interim head of HR after the head of the department left before they hired her replacement. Several sources told Recode that "there was no way that Graves would not have been aware of Fowler's claims." 
Uber CTO Thuan Pham was also allegedly aware of Fowler's sexual harassment issues, according to Recode. She reportedly went directly to Pham when other paths were ineffective.
Uber's ability to act with urgency has been put into question. The company recently extended its internal investigation into allegations of sexual harassment and a hostile workplace. Former U.S. Attorney General Eric Holder is leading the investigation, and according to Recode, as of April, had yet to interview major players, including top HR executives. 
The company's efforts toward combating a discriminatory and hostile workplace may not be free from bias. The company brought in its own board member, Arianna Huffington, to speak with women and lead efforts against workplace sexism. 
When employees, current and former, are complaining that HR is not only ignoring claims of sexual harassment and discrimination, but also retaliating against those who speak up, bringing in a powerful figure with direct ties to the company isn't going to encourage those silenced to open up.
"The person listening has to be open to what they're hearing, and they have to have the power to effect change," Cate Huston, a former Google engineer, told Mic in March. "It's not clear Arianna Huffington has either of those two things at Uber."
We have reached out to Uber and will update with a response.