Unpacking the possible Taylor Swift disses on Katy Perry and Nicki Minaj's "Swish Swish"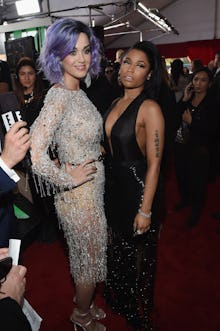 Katy Perry is scoring wins against an adversary on her new song "Swish Swish," featuring Nicki Minaj. The artwork for the official audio, shows Perry's hand adorned with bling and dangling receipts. "And karma's not a liar/ She keeps receipts," Perry sings. From line to line on the electronic dance track, the pop singer takes shots at an unnamed opponent, who some fans believe is Taylor Swift.
Former friends Taylor and Katy have an ongoing rival that dates back to 2014, when Swift released a song called "Bad Blood" and told Rolling Stone that it was about another female artist who tried to "sabotage" her 2013 Red tour. Three dancers who worked with Katy Perry on her 2011 California Dreams tour were hired to work on Swift's Red tour in 2013. One of the dancers, Lockhart Brownlie, told the Examiner that when Perry called the three of them to work again on her 2014 Prismatic tour, the trio decided to leave Swift's trek before it ended.
Speculating that "Swish Swish" is the official clapback to "Bad Blood," here is a look at Perry's possible disses aimed at Taylor Swift on the song. 
On the first verse, Perry calls her unidentified hater a "sheep." In September 2014, the singer tweeted, "Watch out for the Regina George in sheep's clothing..." — a Mean Girls reference — after Swift's claims in the Rolling Stone interview. With this context in mind, Swift could be a person Perry is talking to in the line below. 
Don't need opinions
On the pre-chorus, Perry's says her enemy continues to speak about her, but the singer disregards the chatter and is more focused on winning in the pop game.
So keep calm, honey, I'ma stick around
When Perry was asked if her forthcoming album had a response to Swift's "Bad Blood," she denied that it was about any one person. In the May issue of Entertainment Weekly she explained:
I think [my new album is] a very empowered record. There is no one thing that's calling out any one person.
Even though Perry isn't calling anyone directly out, Swift's pal Ruby Rose has already bought into the idea that "Swish Swish" is a diss track against Taylor. On Friday morning, Rose posted a string of tweets dissing Perry's music. In the post below she called her single "Bon Appetit" featuring Migos, "bomb a petit."
Rose followed up with another tweet criticizing Perry's role as an activist. 
But wait. There are still more feuds to discuss. It should also be noted that Minaj, who has had her own share of beef this year, had a Twitter riff with Taylor Swift in 2015 surrounding Minaj's criticism of that year's VMA nominations. The two made up with each other by the night of the show. Minaj doesn't seem to come for Swift here, but she does spit shady lines that could be referencing fellow rapper Remy Ma on "Swish Swish." 
"Pink Ferragamo sliders on deck/ Silly rap beefs just get me more checks," she raps. Minaj took more than two weeks to release "No Frauds," her response to Remy Ma's "Shether." She said in an Instagram post that her main motive was to make money off the controversy.
2017 is definitely shaping out to be one for the books in diss tracks.
Mic has ongoing Katy Perry coverage. Please follow our main Katy Perry hub here.