'Destiny 2' PC Spec Requirements: What we know about the hardware you'll need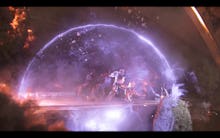 Destiny 2 is the upcoming sequel to arguably one of the best shooter games of the last decade. From Thursday's stream, it seems like Destiny 2 is going to have similar gameplay to the first game. 
Unlike the first game, however, Destiny 2 is going be on PC — which is a huge thing for many fans who prefer playing shooters with a mouse and keyboard. If you're one of those players, it's important to know if you have the right hardware for the game.
Destiny 2 PC specs: What you may need
Unfortunately, no official specs for PC have been released as of yet. However, thanks to an article on Glixel, we do have the specs that the developers used to host the gameplay stream:
To give you a rough idea of performance, the rig that Bungie was running during the gameplay reveal livestream was an i7-7700K 4.2GHz with 16GB of RAM and a GTX 1080Ti graphics card.
Luke Smith, the gameplay streams host, told PC Gamer that the September 8 release date only applies to the console version — the PC version release date for Destiny 2 has yet to be set. Unfortunately, this means that fans will probably have to wait a while longer if they want to play the game on their computer.
More gaming news and updates
Check out the latest from Mic, including our list of video games that made fun of their players, a personal essay about dealing with anxiety through Breath of the Wild, a look at the racist and sexist experiences in esports and a plea for better character customization options for black characters.