Out of Office: Tips to help you reach vacation nirvana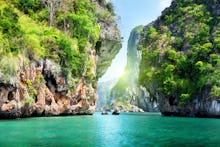 Mustering up the courage to use your vacation days is only half the battle of reaching peak vacation relaxation. Then there's dealing with airplane phobia and finding an ideal place to stay that you can actually afford. Here are a few pro travel tips to help you reach vacation nirvana and prevent your travels from causing you more stress than work does.
Americans have a reputation for not embracing their time off. More than half of Americans didn't use all their vacation days in 2015, which added up to 658 million unused vacation days.
If you're feeling anxious about scheduling time off, know this: Vacation is part of your compensation and benefits package, and you're well within your rights as an employee to take the occasional break from your job.
Here's the psychology behind vacation guilt and how to break free.
Check your travel phobia with your baggage. From one germaphobe to another, a frequent germ-fearing traveler shares her definitive guide for avoiding germs and ensure a healthy vacation.
Music is one way to pass time and settle your flying nerves — but podcasts require the same minimal effort as listening to music and usually teach you something cool along the way.
Whether you are a fan of film, music, television, politics or wackiness, there's a podcast waiting to be heard.
Summer Fridays, beach weekends and nightly rosé sessions will be here before you know it. The Hamptons houses and Palm Springs cottages may be booked for Memorial Day weekend, but plenty of destinations are ready and waiting to help you kick off vacation season.
We compiled a list of affordable, accessible spots, where you'll be able to see much of the city within three days — and do some relaxing at the same time.
Alcohol-themed hotels are starting to pop up all over the world, whether you want to make your own wine in Argentina or soak in a hot tub full of beer in Ohio — here are five options.
Now that you have all the tips you can say goodbye to stress and hello to relaxation!
Stay Updated!
Ready for your next adventure? Get our weekly guide covering where to go and what to eat delivered to your inbox. Subscribe here.