'Destiny 2' and Battle.net: What this means for PC gamers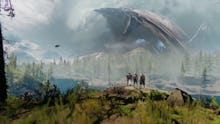 Thursday's Destiny 2 gameplay reveal stream lifted the curtain on the highly anticipated sequel to Bungie's flawed-but-beloved MMO shooter. The game itself looks like it has a ton of potential, with more open world hijinks than before and a clever "guided games" feature to bring less dedicated players through endgame content. 
But the most shocking revelation came at the end of the stream, when Blizzard Entertainment's Mike Morhaime revealed the PC version of Destiny 2 will live exclusively on Battle.net. 
A new resident in Blizzard's gated community
Battle.net is a storefront and social hub for all of Blizzard's PC games. It launched in 1996 as a way to connect players of the original Diablo and has since evolved to sell Blizzard's games digitally, as well as give players a way to chat across games. The service officially changed its name to just "Blizzard app" earlier this year, but everyone on Earth still calls it Battle.net. 
Until the announcement that Destiny 2 would live on Battle.net, it was the home of Blizzard's games and no one else's. The idea that anything else would ever show up there is fairly shocking, even when you read between the business lines. You see, Destiny publisher Activision merged with Vivendi almost a decade ago to become the company now officially known as Activision Blizzard. In layman's terms, that means Destiny has been under the same corporate umbrella as Overwatch and World of Warcraft this whole time.
In all likelihood, there weren't any significant business hurdles to jump in order to make this deal happen, but it's still highly unusual. From the outside looking in, it's felt like the Activision and Blizzard sides of Activision Blizzard have maintained autonomy from one another. The logo that pops up when you play Call of Duty just reads "Activision"; meanwhile, there haven't been any Nazi zombies in Heroes of the Storm.
This whole time, you wouldn't have known Call of Duty and World of Warcraft come from the same place unless you sought it out. Destiny 2 coming to Battle.net is the most tangible effect of the Activision and Blizzard merger in the decade since it happened.
How does this affect me, the player?
Destiny 2 living on Battle.net means that the PC version of the game won't be available on Steam. If you want to partner up with fellow guardians on your juiced-up gaming rig, you'll have to do it in a different desktop client with a different friends list than the place where you normally play PC games.
People who play World of Warcraft (or any other PC Blizzard game) and Destiny 2 on PC will be able to text chat with each other. The left sidebar of the Battle.net desktop client will have a big fat logo for a non-Blizzard game on it now, for the first and potentially last time ever.
Bungie hasn't hinted at this at all yet, but what I'm most excited for is the idea of Blizzard and Destiny cross-pollination. We see it all the time with games like Heroes of the Storm and Overwatch. I want to get a shader for my Destiny warlock that makes her look like a Warcraft character. I want to dress Soldier: 76 up like a Titan. The possibilities are endless.
Other than that, it means you'll have to click a different desktop icon to play Destiny 2 on PC than you do for most other PC games. I suspect it won't be that much of a hassle to exchange Battle.net usernames with people you plan on playing Destiny with. Time will tell what other benefits (and drawbacks) come from this move.
More gaming news, updates, tips and tricks
Check out the latest from Mic, including our list of video games that made fun  of their players, a personal essay about dealing with anxiety through Breath of the Wild, a look at the racist and sexist experiences in esports and a plea for better character customization options for black characters.