'Destiny 2': New supers for Dawnblade, Arcstrider and Sentinel revealed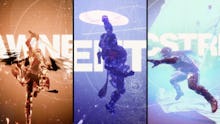 Bungie finally gave Destiny fans a good, long look at Destiny 2 gameplay on Thursday, and it appears to be shaping up nicely. 
Destiny 2 will have a whole host of new features, like guided games and in-game clans, but the flashiest addition to Destiny 2 is the new set of subclasses: Dawnblade, Arcstrider and Sentinel.
Good news: Each one's super ability look totally badass, and we've got the footage embedded below.
Destiny 2 new supers: Dawnblade
The new Warlock subclass is called Dawnblade, and its new super grants your character a fiery sword and a set of flame wings for a brief period of time.
Here's how it looks:
Destiny 2 new supers: Arcstrider
The new Hunter subclass is called Arcstrider, and its super turns your character into a flipping, acrobatic warrior with a staff that crackles with electricity.
Here's how it looks:
Destiny 2 new supers: Sentinel
The new Titan subclass is called Sentinel, and its super basically turns you into a shadowy version of Captain America. You wield a void shield that you can use to block attacks, bash enemies up close or throw at enemies from afar.
Here's how it looks:
Destiny 2 will be available on Sept. 8 for PlayStation 4 and Xbox One. It will likely come to PC at a later date.
More gaming news and updates
Check out the latest from Mic, including our list of video games that made fun of their players, a personal essay about dealing with anxiety through Breath of the Wild, a look at the racist and sexist experiences in esports and a plea for better character customization options for black characters.