Iran Presidential Election: Here's what we're watching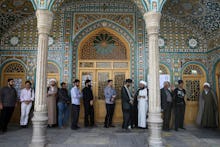 Iranians headed to the polls Friday to cast their ballots in a pivotal presidential election that is expected to shape the country's economic future. 
Four candidates are on the ballot, but the race is largely expected to come down to incumbent President Hassan Rouhani and conservative challenger Ebrahim Raisi. 
Here are three key things to watch as Iranians queue up to determine the future of their country — and its place in the world.
The future of the Iran nuclear deal
For Westerners, one of the biggest side effects of Friday's election results will be the fate of the 2015 nuclear deal between Iran and the United States.
Rouhani played a key role in crafting the landmark agreement, which was designed to prevent Iran from obtaining a nuclear weapon and which Rouhani promised would lead to a strengthened economy by way of U.S. sanctions relief.
But many Iranians — Raisi among them — feel the deal has fallen short of those promises. 
"The nuclear deal is like a check that Rouhani's government was not able to cash," Raisi said in a televised interview during his campaign, according to Reuters.
Raisi's election would be seen as a rebuke of the nuclear deal and, as Suzanne Maloney of the Brookings Institution told the Huffington Post, while the deal wouldn't fall apart immediately, it would "erode almost inevitably as a result of the lack of commitment from Iran" under Raisi.
A verdict on Rouhani's policies
Rouhani won the 2013 election amid promises to expand freedom of speech and strengthen the country's economy, but this year's election will be a test of that vision's popularity among voters.
Raisi — a former member of what's known as the "death commission," which oversaw the executions of thousands of political prisoners in Iran in the 1980s — has taken a tougher line on the West that would likely see Iran take a backseat from the renewed vigor of the country's participation in international conversations.
"His economic and social policies are like those from former President Mahmoud Ahmadinejad: disastrous," economist Saeed Laylaz told the New York Times. "What foreign company will invest in Iran if he becomes president?"
Voter turnout
Rouhani, a centrist reform candidate, will have the highest chances of winning with a high voter turnout, like the one that buoyed him to victory in 2013. 
Jonah Hull of Al Jazeera reported from Tehran that large crowd numbers at the polls "would tend to favor the moderate reformist side of President Rouhani, and anything less than 60% would spell trouble for him."
But according to a report from the National Iranian American Council, both candidates appear to be concerned by the idea of voter apathy.
In Rouhani's case, the report says, high turnout is the best safeguard against "electoral malfeasance," and Raisi has offered handouts at the polls in an effort to rally his hardliner base.