'Destiny 2' Crucible Gameplay: Bungie teases smaller matchups, new mode and map in reveal stream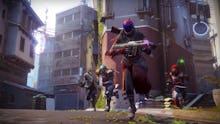 Love it or hate it, Destiny's Crucible was certainly one way to spend your time after hitting the level cap in Bungie's sci-fi shooter. 
On Thursday, Bungie teased a lot of new new content for the game's upcoming sequel Destiny 2 during a live Twitch stream. In addition to guided games, which would help to bridge the gap between those who can participate in raids and those who can't, Bungie teased some changes to the Crucible as well.
Destiny 2 Crucible: Big updates are on the way
According to Polygon, one of the biggest changes being made to the Crucible is that all PvP activities are being moved to 4-on-4, according to Luke Smith, the game's director. Although this means Rift and Clash are being sized down from 6v6 to 4v4, Smith added that they're reworking the content in order to compensate for the smaller teams.
Additionally, the world lead, Steve Cotton, said that the HUD had been reworked for the Crucible as well. It's been revamped to give you information on whether opponents have picked up ammo for their super weapon (the game's reworked Heavy Weapon) and the status of their super. Chances are you'll still get popped by your fair share of charged supers and power weapons, but at least now you'll know it's going to happen.
VG24/7 had other interesting tidbits to share, as well. There's a new PvP mode arriving in Destiny 2 called Countdown. This new mode places players on either attack or defense for a round, with the roles switching at the end of each round. Countdown tasks players with planting a bomb at the enemy base and then defending it until it detonates. 
VG24/7 also spoke a little bit about the new map, Midtown. It's a portion of the city that the Red Legion skipped over in their siege of the city, so naturally it's the perfect place to relax with a little Guardian-on-Guardian violence in between reclaiming your stolen Light.
More gaming news and updates
Check out the latest from Mic, including our list of video games that made fun of their players, a personal essay about dealing with anxiety through Breath of the Wild, a look at the racist and sexist experiences in esports and a plea for better character customization options for black characters.