'Destiny 2' beta confirmed for this summer — here's how to sign up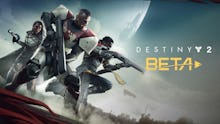 If you're a hardcore Destiny fan, you probably had just one question on your mind after watching that Destiny 2 gameplay reveal on Thursday: When can I play?
Good news: Bungie announced that it will host a beta testing period before the game comes out. Here's what you need to know.
Destiny 2 Beta: How do I sign up?
According to Bungie's website, the only way to get access to the Destiny 2 beta is by pre-ordering a copy of the game.
If you've already pre-ordered your copy digitally through the PS4 or Xbox One marketplaces, you'll automatically receive beta access once it's available.
However, if you pre-ordered your copy at a retailer and received a beta code, you'll have to go to Bungie.net/redeem and follow the instructions there.
Destiny 2 Beta: When does it start?
Bungie has not announced when the beta will start. Destiny 2 comes out Sept. 8, so the beta will likely run this summer.
More gaming news and updates
Check out the latest from Mic, including our list of video games that made fun of their players, a personal essay about dealing with anxiety through Breath of the Wild, a look at the racist and sexist experiences in esports and a plea for better character customization options for black characters.