'Assassin's Creed Origins' Leaks: Reddit post claims to reveal new details, says trailer is imminent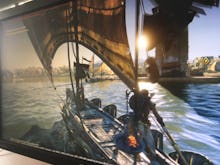 Assassin's Creed Origins remains the worst kept secret in gaming. Rumors and leaks have been flying in every week, to the point where it feels like we know everything there is to know about this game before it's been officially announced. The rumor train is still going at full speed, in case you were wondering.
Assassin's Creed Origins leaks: Reddit AMA allegedly shares tons of details
Right off the bat, you should be skeptical about all of this. A supposed leaker gave a Reddit AMA (which now appears to be gone) and Gamepur has a huge bullet point list of all the details shared about Assassin's Creed Origins. It all lines up with what we've heard about the game in recent months, but it could still be someone pulling our collective leg. Just be warned.
First, the leak suggests we'll see the first trailer for the game on Friday. That's convenient, because we'll know if this is all horse hockey by the end of the day. Other than that, all of the things we've heard before are reinforced here. It takes place in ancient Egypt, you can use boats to travel across large bodies of water and multiple comparisons are made to The Witcher III. 
The most interesting new tidbit in this leak is the fact that Desmond Miles, the original protagonist of the present-day sequences in Assassin's Creed, will be in the game in some fashion. That would be notable because Desmond died at the end of Assassin's Creed III. Any substantial present-day content in the new game would be a surprise, as that aspect of Assassin's Creed has shrunk significantly since Desmond's death.
Is this leak legit, or is it a bunch of educated guesses designed to troll people? Luckily, we should know before the day is done.
More gaming news and updates
Check out the latest from Mic, including our list of video games that made fun of their players, a personal essay about dealing with anxiety through Breath of the Wild, a look at the racist and sexist experiences in esports and a plea for better character customization options for black characters.