Fox News just fired an anchor for making an "insensitive remark" to a black employee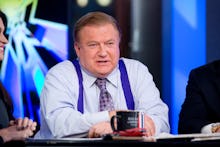 Fox News Channel fired Bob Beckel, a co-host of the channel's evening panel show The Five, because of a comment he made to a black employee.
"Bob Beckel was terminated today for making an insensitive remark to an African-American employee," a Fox News spokesperson said in a statement to Mic on Friday. The news of Beckel's termination was first reported by Variety.
Beckel had only just returned to Fox and to The Five in January of this year. He had been with Fox News since 2000, but he had a contentious split with the company in 2015. On The Five, Beckel often served as the more liberal contrast to conservative co-hosts. 
It wasn't immediately clear what Beckel said to the employee to warrant his termination. Beckel has a history of making racist comments on air, including making derogatory remarks about Nigerians and Iranians as well as using disparaging slang terms to refer to Chinese people. 
In a statement provided to Mic, lawyers for the employee alleged that Beckel "stormed out of his office" when the employee came in to service his computer, "telling our client that he was leaving his office because he is black." 
"To make matters worse, after our client lodged a complaint about Mr. Beckel's racist behavior, Mr. Beckel, in front of chief human resource officer Kevin Lord, attempted to intimidate our client and persuade him to withdraw his complaint," attorneys Douglas Wigdor and Jeanne Christensen said in the statement. "Because he would not do so, Fox, in what has now become common place, leaked the story on a Friday to minimize the attention drawn to Mr. Beckel's racist behavior."
A Fox News spokesperson denied the allegation that Beckel tried to persuade the employee to withdraw his complaint, and said that it acted immediately to rectify the situation. 
"As Mr. Wigdor knows, Fox News made the decision to terminate Mr. Beckel after a prompt and thorough investigation," the spokesperson told Mic in a statement. "His client raised the complaint to Kevin Lord, EVP human resources, on Tuesday evening via email and within seven minutes Mr. Lord responded and began the investigation. Today, Fox News delivered that message to Mr. Beckel and facilitated an apology from Mr. Beckel to the employee minutes after he was terminated. No one tried to persuade Mr. Wigdor's client to withdraw his complaint." 
The news of the firing comes as the network faces a slew of legal troubles, including a class-action lawsuit alleging that employees were subjected to racial discrimination. 
Nearly two dozen current and former Fox News employees have joined the discrimination suit, which alleges "abhorrent, intolerable, unlawful and hostile racial discrimination … that appears more akin to Plantation-style management than a modern-day work environment."
Fox News has vigorously denied those allegations, and has said that it acted immediately when charges of racial discrimination were brought to management's attention. 
The company is also facing sexual harassment lawsuits and a federal investigation into the network's business practices.
The IT worker who Beckel allegedly made the comments to is being represented by the same attorneys for the class-action discrimination lawsuit. The attorneys said they will file more complaints against the company next week.