'Pokémon Go' Shiny Aerodactyl: Adventure Week teaser sparks new rumors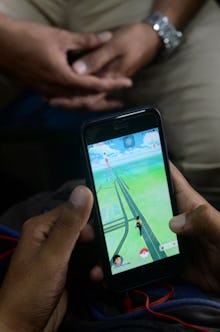 Ever since the Water Festival gave Pokémon Go players shiny Magikarp and red Gyarados, fans have anticipated the release of new shiny Pokémon with basically every event that's happened since. Most recently, fans were (briefly) convinced that shiny Bulbasaur might be arriving during the Worldwide Bloom weekend event because of a difference in hues used in the event's header image. So naturally fans were hopeful that Adventure Week would herald the arrival of a new shiny Pokémon: the hard-to-find Aerodactyl.
Hate to burst everyone's bubble, but there's no shiny Aerodactyl in the game right now. It's nothing more than a hoax.
Pokémon Go shiny Aerodactyl: Photoshop fails to fool the Silph Road community
A post went up on the Silph Road on Thursday seeming to indicate that a Twitter user had caught a shiny Aerodactyl at the beginning of the event. Although the post is still up, the picture and user have been deleted, and comments below the post ranged from exasperation to explaining that the shiny Aerodactyl in question had sparkles, which runs counter to the look of the two actual shiny Pokémon, who do not sparkle. 
You can catch a glimpse of the "shiny" Aerodactyl here, but again, bear in mind that it's a hoax. 
Other members of the Silph Road community were able to articulate why it's not reasonable to expect shiny Pokémon from each new event in this thread, essentially arguing that it's not feasible to expect shiny Pokémon to trickle into the game. User gnonx seemed insistent that the addition of more shinies would be something of an all-or-nothing affair.
"Shiny Magikarp wasn't a surprise," added 9thdragonkitty, "they explicitly announced it. I'm not holding my breath for any this event."
So no, there's no shiny Aerodactyl in the game yet. But the Adventure Week has a lot of great content to keep you occupied while scanning the skies for the next promise of shiny Pokémon.
More Pokémon Go news and coverage
If you're just booting up your Pokémon Go account, check out our first impressions of the Gen 2 update. You'll also want to learn more about the Unown and new evolutionary items like the Sun Stone and more. If you're looking for a list of evolutions that weren't initially revealed by Niantic, this article is your guide. 
If you're more interested in the main games, here's the latest on a possible Pokémon title on the Nintendo Switch: Pokémon Stars. And if you're itching to learn about the other mobile Nintendo games, check out our coverage of Fire Emblem Heroes and Super Mario Run.