How to record a Snapchat without hands and capture the perfect video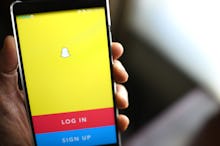 Recording a Snapchat video without hands sounds seemingly impossible without a pair of Snapchat Spectacles. But there's a hack for iOS users that allows for recording Snapchat videos without having to actually hold the record button down the entire time. Doing this requires modifying your device's accessibility settings, Mashable reports.
To access the accessibility settings, go to "Settings," General," "Accessibility," "AssistiveTouch" and then toggle the button to enable AssistiveTouch.
Once you've enabled AssistiveTouch, a semi-transparent gray square-shaped icon should pop up somewhere on the screen. At this point, you have to create a custom gesture. To do this, tap on the AssistiveTouch icon to bring up the menu.
From the menu, select "Custom" and then select on a box with a plus sign in the middle.
This will bring you to a "New Gesture" page. You can tap or swipe to create a custom gesture. Press the center of the screen with one finger until the blue bar at the bottom fills up.
Then click "Save." A window will pop up to name the new gesture. You can name it anything you want, though, "Snapchat" would be the explanatory title.
Now, open up the Snapchat app and go to the camera screen. Then click the AssistiveTouch icon to pull up the menu, press "Custom" and select "Snapchat" or whatever name you gave the gesture.
This will trigger a second round button to appear on the screen. Drag that button on top of the round record icon and start moving your phone around to record without having to hold down the record button the entire time. Just know you won't get the full 10 seconds of recording time as you would if you pressed the button yourself. Instead, you'll get 8 seconds, as noted by Business Insider.