The airport lawyers who fought Trump's Muslim ban are facing a Justice Dept. crackdown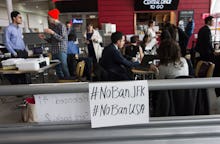 At the height of the chaos surrounding President Donald Trump's initial travel ban, Jorge Baron sprinted through Seattle-Tacoma International Airport to stop a taxiing plane. There were two immigrants aboard who were being ferried back home. Baron and his colleague, both lawyers, had a restraining order from a judge that kept the two men in the country. They were able to stop the plane before it took off. Meanwhile, at airports across the country, protesters gathered as hundreds of lawyers were settling in to take shifts, keeping constant watch over international arrivals and protecting the rights of more than 700 detainees nationwide.
Now, those lawyers who fought to protect travelers from detention and deportation are under fire. Baron's organization, the Northwest Immigrant Rights Project (NWIRP), is now embroiled in a battle of its own. The Department of Justice shut down many of their services for four weeks on a surprise technicality, preventing hundreds of immigrants from getting access to lawful representation. 
The lawyers at the NWIRP have been working in the Seattle community for over three decades, serving 10,000 immigrants a year. Because it's tough for a nonprofit to promise full service, years-long support up front to the dozens of immigrants they serve each week, a lot of NWIRP's services are in assisting "pro se" applicants — temporary work, often for free, that simply helps immigrants deal with emergencies and the myriad complexities of immigration court.
It's that pro se work that the DOJ is using to shut down services for hundreds of immigrants.
The legislation the DOJ is using to crack down on the NWIRP was initially designed to curb abuses by the ambulance chasers of the immigration world, the so-called "notarios" who find immigration cases, gently imply they're lawyers and then make off with the money. The lawyers providing pro se work with NWIRP are clearly not notarios, and have been working with the local courts to be transparent about their work.
"We've been doing this for the nine years since this legislation and it hasn't been an issue," Glenda Madrid, a staff attorney with the NWIRP, said in a phone interview on Friday. "And now, all of the sudden, in mid April we get a letter to cease and desist."
A judge granted a restraining order blocking the Justice Department's crackdown and, as of Wednesday, the NWIRP is back in the business of helping local immigrants as they fight the cease and desist. But the increased aggression of the courts and the Department of Justice is creating an environment of unpredictability, where once-held norms might be upended by the Trump administration's anti-immigration agenda.
"It's appalling, and incredibly concerning to us as practitioners who see people walk through the doors very day," Madrid said.
Nov. 10, 2015, 11:32 a.m.: This story has been updated to better describe the nature of assisting pro se applicants.