'F1 2017' Release Date and New Features Announced: Everything you need to know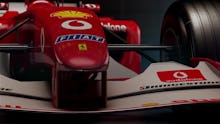 The newest version of Codemasters long-time Formula One video game series, F1 2017 is set to release on August 25 for PlayStation 4, Xbox One and PC, per a press release provided to Mic.
The announcement was accompanied by a trailer featuring three historic F1 cars that will be playable in the game: the 1988 McLaren MP4/4 (pre-order bonus), the 1992 Williams FW14B and the 2002 Ferrari F2002.
Here's a look at the trailer:
The F1 series has a niche audience, but it has been consistent since Codemasters took over the brand in 2009.
"After an extremely successful year with the highly acclaimed F1 2016, we are delighted to be announcing F1 2017 and re-introducing classic F1 cars back to the series," said Paul Jeal, game director at Codemasters. "Classics were incredibly well received when we included them in F1 2013, and in F1 2017 they are back and better than ever. With so many great cars to choose from, it was hard to decide on the final twelve, but we are delighted with our selection of some of the most successful and iconic fan favorites from the past 30 years."
The career mode in F1 2017 will also integrate classic cars with modern day events. There will be alternative circuit layouts and a variety of settings to adjust as well as various multiplayer and time trial modes.
If you're an F1 fan and Codemasters continues to build on the concepts they've introduced in recent years, August is likely going to be a big month for you.
More sports gaming news and updates
Love sports games? Check out more content from Mic, including tips for leveling up your NBA 2K17 MyPlayer, playing quarterback in Madden 17, our review of MLB The Show 17 and the classic Nintendo sports games we want to see on the Switch