Melania Trump forgoes headscarf on Saudi trip. Her husband ripped Michelle Obama for that.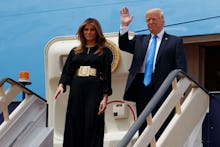 As first lady Melania Trump stepped off Air Force One to accompany her husband president Donald Trump on his trip to Saudi Arabia, it was what she wasn't wearing that caught everyone's attention. 
Covered from neck to toe in a conservative black ensemble, Melania Trump showed off her perfectly-coiffed hairdo rather than wear a headscarf for the trip to Saudi Arabia, the Associated Press reported.
It's very common for foreign women not to wear headscarves while traveling in Saudi Arabia. Several first ladies and secretary of state Hillary Clinton did not wear the covering, which is required for Saudi women to wear in public. 
However, in 2015 when then-first lady Michelle Obama did not wear a headscarf on her trip to Saudi Arabia, Donald Trump castigated her in a tweet. 
"Many people are saying it was wonderful that Mrs. Obama refused to wear a scarf in Saudi Arabia, but they were insulted," Trump wrote. "We have [enough] enemies." 
According to the AP, the president's daughter, Ivanka Trump, also did not wear a headscarf for the trip. 
Plenty of people have been reminding Trump of this tweet by replying to it Saturday morning.