3 takeaways from the re-election of Iranian President Hassan Rouhani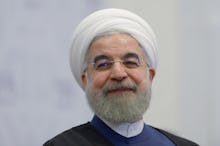 Iran President Hassan Rouhani was re-elected with 57% of the vote on Friday, earning the centrist reform incumbent a decisive victory.
Rouhani — who was elected president in 2013 with a vow to expand freedom of speech in the country and strengthen its economy — defeated conservative hardliner Ebrahim Raisi to stay in office.
"Great people of Iran," Rouhani wrote on Twitter, in Farsi, "you're the winners of the election."
Here are the three key takeaways from the Iran election:
A victory for reform
Raisi — a conservative cleric — ran a nationalist campaign for president in which he gathered most of his support from poorer, rural conservatives.
He earned 38.5% of the vote, according to the BBC.
But with more than 70 percent turnout, voters delivered a strong victory to Rouhani, who has promised to expand social and political freedoms, make connections with other countries and bolster an economy still reeling from high unemployment. 
Well, a relative victory 
The powers of the president in Iran are restricted by an unelected Supreme Leader — currently Ayatollah Ali Khamenei, who is said to be grooming Raisi as the next Supreme Leader. 
While the scope of Rouhani's victory ought to give him some power to enact his reforms — and is certainly a blow to the Revolutionary Guards, a powerful security force that backed Raisi — he'll still be limited by the Supreme Leader's veto power and security force control. 
"The last two decades of presidential elections have been short days of euphoria followed by long years of disillusionment," Karim Sadjadpour, senior fellow at the Carnegie Endowment who focuses on Iran, told Reuters. "Democracy in Iran is allowed to bloom only a few days every four years, while autocracy is evergreen."
Good news for the Iran nuclear deal — for now
Rouhani's emphatic re-election may be seen as an endorsement of the Iran nuclear deal, which he, former President Barack Obama and other world leaders negotiated in 2015. 
Raisi had called the deal a "check that Rouhani's government was not able to cash" and a victory for the conservative would have likely meant its eventual end.
But with a Rouhani win, the landmark agreement lifting the majority of international sanctions against Iran in exchange for reeling in its nuclear program, should be protected.
Still, the nuclear agreement does still face some opposition from a key player.
President Donald Trump has slammed it as the "worst deal ever." While the White House renewed the Iran nuclear deal on Wednesday, it opened a broad review of it in April and has suggested it may back out of it at some point in the future. 
Correction: May 20, 2017