Grand jury clears Bryan Mason, the Columbus cop who shot 13-year-old Tyre King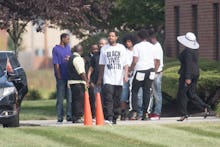 The Franklin County Grand Jury has decided not to pursue charges against Columbus, Ohio, officer Bryan Mason who shot and killed 13-year-old Tyre King in September, WBNS reported. 
Franklin County prosecutor Ron O'Brien said the grand jury thought the shooting was justified. Mason shot King after King ran away from a group of officers investigating an armed robbery. When King grabbed for a BB gun in his waistband, Mason mistook it for a real firearm and shot the teenager. 
An autopsy later revealed that King died from gunshot wounds to the head and torso, WBNS reported.
In a statement to WBNS, the Columbus City Council called the decision "sad" and "unfortunate."  
"While we are grateful for the grand jury's service and for the community's patience awaiting these results, the Council is also deeply reflective on how we must aggressively strive to end violence in our community and continue to improve the relationship between the people of Columbus and the criminal justice system," the statement reads. The council also called for openness and transparency in police investigations. 
King's case and Mason's lack of indictment carry echoes of the shooting death of 12-year-old Tamir Rice. In December 2015, a grand jury also decided no one was responsible for the death of the black preteen who was shot while holding a toy gun in a Cleveland, Ohio, park.