Donald Trump's aides staged an "intervention" to stop his constant tweeting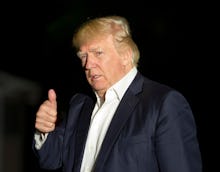 Aides to 70-year-old President Donald Trump staged an "intervention" several weeks ago in an apparently futile attempt to get his relentless tweeting under control, the Wall Street Journal reported Friday.
According to the report, aides cautioned Trump, who — again — is the president, that his outrageous tweets could "paint him into a corner" legally and politically.
The aides are said to have pointed specifically to the president's unsubstantiated accusation that former President Barack Obama wiretapped Trump Tower during the 2016 election.
That bizarre bugging claim was debunked by now-former FBI Director James Comey, which is said to have infuriated Trump, who fired him May 9.
The Twitter intervention was part of a larger Journal report on Comey's coming public testimony before Congress. Comey's firing set off a political firestorm unlike any Trump has faced in a presidency — and candidacy — spent mired in scandal upon scandal.
Now, barely more than 100 days into his term, the investigation into Trump's Russia ties is heating up; the probe now includes a cover-up investigation, and a current White House official is reportedly considered a "significant person of interest."
Despite the "intervention," Trump has headed over to his favorite social media platform on numerous occasions to threaten Comey, call the investigation a "witch hunt" and accuse Obama and Hillary Clinton of "illegal acts."
Trump's itchy Twitter finger may frustrate those around him, but Trump sees the platform as central to how he got elected — his way around a "fake" news media he considers an "enemy of the people."
"I think that maybe I wouldn't be here if it wasn't for Twitter because I get such a fake press, such a dishonest press," Trump told Tucker Carlson in a Fox News interview in March. "I can reach, whether it's 90 million, 100 million, or 80 million — when I can reach that many people, Twitter is a wonderful thing for me because I get the word out."
Twitter co-founder Evan Williams apologized for the possible role the platform had in Trump's unlikely November victory during a New York Times interview published Saturday. 
"It's a very bad thing, Twitter's role in that," Williams told the Times. "If it's true that he wouldn't be president if it weren't for Twitter, then yeah, I'm sorry."