New York's Russian LGBTQ community holds first-of-its-kind pride march in Brooklyn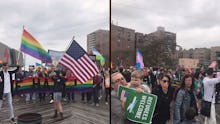 On Saturday, activists and community members gathered together for what was billed as the United States' first-ever Russian-language LGBTQ pride celebration in New York's Brighton Beach neighborhood. 
Brighton Beach Pride, organized by RUSA LGBT, aimed to highlight how the New York City Russian enclave has hosted many U.S. newcomers who have fled repression in post-Soviet countries. 
Attendee Jason Rosenberg, a member of ACT UP, said in a phone interview that the mood was "celebratory" and "happy." Rosenberg estimated that 500 people were in attendance. 
Several people at the beachside event shared images from the day's festivities, including speakers who talked to the crowd about their own experiences in Russia and the importance of the New York community. 
Images on social media showed people holding rainbow banners displaying the word "dignity" as well as many pink triangles.
RUSA LGBT copresident Lyosha Gorshkov welcomed the assembled crowd to the event. According to several tweets from the scene, he spoke about his own experience being persecuted in Russia for teaching gender queer studies. 
Another Rusa LGBT organizer, Yelena Goltsman, told the crowd she "never believed" something like this would happen. 
"I never believed, never in my life, that we would have Brighton Beach Pride. Never. Believe in something and go there and do it, and one person can make a difference," she told the crowd. 
Rosenberg said that while the event was jubilant overall, the mood did shift when the crowd spoke about the ongoing capture and torture of gay and bisexual men in Chechnya. Many in attendance held signs in support of human rights. He said Chechnya was "very openly discussed" several times during the event and that ACT UP led chants of "When Chechnya is under attack, what do we do? ACT UP! Fight Back!" 
In April, reports first emerged in Russian media that Chechen gay and bisexual men were being captured, tortured and killed. Since then, there are reports that Chechen leader Ramzan Kadyrov has called for the region's queer population to be extinguished by Ramadan, which starts on May 26.  
Since these reports, activists have been shepherding queer men to safety in other Russian territories. 
Hillary Clinton recently slammed Donald Trump for his silence on the reports from Chechnya, while German Chancellor Angela Merkel reportedly tried to sway Russian leader Vladimir Putin to stem the abuses.
Aside from ACT UP, several activist groups joined RUSA LGBT as well, including Rise and Resist, which famously dropped a "No Wall" banner inside Trump Tower in April. 
Highlighting the reported atrocities in Chechnya, a Broadway performer from Book of Mormon led the crowd in a version of "We Shall Overcome," a video of which began to circulate on Twitter. 
Members from several ethnic groups were also in attendance, according to Rosenberg, including Uzbeki and Kazakh people. He also said there was a Kazakh drag queen. 
"That was the takeaway, being more in tune with universal LGBT liberation and equality," he said. 
Rosenberg, who spoke with members of the community while there, said that many LGBTQ people from the Russian enclave were scared that there might be some negative blowback, but that he didn't witness any fighting or see any slurs thrown at those gathered to celebrate queer resilience.