White supremacist Richard Spencer has gym membership revoked after woman confronts him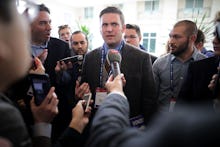 White nationalist Richard Spencer has been kicked out of a gym in Virginia following an altercation with a woman about his white supremacist beliefs, BuzzFeed News reported.
In a post on Tumblr Wednesday, fellow gym member Christine Fair recounted how she approached Spencer at Old Town Sport & Health in Alexandria, Virginia, writing, "I exploited the full range of my First Amendment entitlements by telling him that this country does not belong to white men."
"As a white woman, I find his membership at this gym to be unacceptable. I found his membership at this gym to be an unfair burden upon the women and people of color — and white male allies of the same," Fair wrote.
Spencer, Fair noted, tried to enlist the help of a female African-American trainer to stop Fair's confrontation. 
"Seriously? This superior race of a white man needed the help of a female African-American? What kind of martial race member is he?" Fair asked in the Tumblr post.
Though Fair explained in the post that she "[anticipated] being kicked out of the gym," it was Spencer whose membership was ultimately terminated.
In an interview with BuzzFeed, Spencer said he didn't know why he was kicked out of the gym. 
"I was a well-behaved member of this gym, I did not cause any controversy," Spencer said, noting he had re-joined the gym a few months ago after being a member in the past.
At the time of this writing, Spencer retweeted one racist comment from a supporter in regards to the incident.
"Does this mean we can start kicking Jews and coloreds out of our business establishments?" the tweet read.
The white nationalist, who recently made headlines for participating in a protest against the removal of Confederate statues in Charlottesville, Virginia, told BuzzFeed he was unsure if he would take action against the gym for his termination.
"I've been talking to a couple of people about this," Spencer said. "I don't know what we're gonna do."