Trump Islam speech livestream: How to watch the president's speech in Saudi Arabia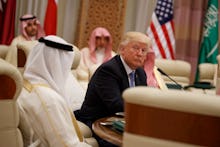 President Donald Trump is set to deliver a speech in Saudi Arabia Sunday, where he will discuss Islam with an audience of Muslim leaders. 
The speech, the New York Times noted, will reportedly be centered around fighting against Muslim extremism, positioning this fight as a battle against the evils of terrorism rather than a single religion. Trump will reportedly tone down his previously divisive rhetoric against Islam and will use the phrase "Islamist extremism" instead of "radical Islamic terrorism."
"This is not a battle between different faiths, different sects or different civilizations," Trump will say in the speech, according to excerpts quoted by the Times. "This is a battle between barbaric criminals who seek to obliterate human life and decent people of all religions who seek to protect it. This is a battle between good and evil."
Watch Trump's speech live via the livestream below.