Pence talks "free speech" in Notre Dame graduation address, students walk out in protest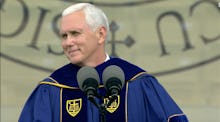 Vice President Mike Pence spoke to University of Notre Dame's class of 2017 as their commencement speaker Sunday, making a divisive appearance that sparked demonstrations from students and the broader community.
As part of a protest organized by university activist group We Stand For, a crowd of students walked out of the graduation ceremony as Pence began speaking, sparking boos from some of the other attendees. The protest was designed as a way to stand in solidarity with the marginalized groups targeted by Pence and the Trump administration's divisive policies and beliefs.
In a Twitter post following the protest, We Stand For said more than 100 attendees had taken part in the walkout, describing it as a "wonderful success."
A second protest took place just outside the university campus, the South Bend Tribune reported, as local activists gathered to protest Pence on Angela Boulevard in South Bend, Indiana.
"His stance on women is disturbing to me, women's health issues ... It's not just policy but also rhetoric, all meant to keep women 'in their place,'" South Bend resident Heather Collins told the Tribune. "Notre Dame has the right to invite whomever. I think it's disrespectful to the LGBT students to invite someone with such bigoted beliefs."
In an interview with Mic on Friday, We Stand For organizer Luis Miranda pointed to Notre Dame's practice of Catholic social teaching to help explain the protest, saying Pence's policies against minorities stood in contrast with the values espoused by the Catholic university.
"For us, there's nothing that could be more in the spirit of the university and the university mission than to stand up for human dignity and the most vulnerable among us," Miranda said.
In his commencement speech, however, Pence praised Notre Dame's values as being in line with his own, telling those in attendance, "Know that in so many causes, I can assure you, that ... you have an ally in our still-new administration." 
The vice president used his speech to rally against what he characterized as an attack on "free expression" on other college campuses, which Pence said "jeopardizes the liberties of every American." Praising Notre Dame as an "island in a sea of conformity," Pence called on graduates to "be leaders for the freedom of thought and expression" and to carry Notre Dame's values into their postgraduate lives.
"While this institution has maintained an atmosphere of civility and open debate, far too many campuses across America have become characterized by speech codes, safe zones, tone policing [and] administration-sanctioned political correctness, all of which amounts to nothing less than suppression of the freedom of speech," Pence added. "These all-too-common practices are destructive of learning and the pursuit of knowledge, and they are wholly outside of the American tradition."