Trump condemns terrorism in the name of religion, but these experts aren't impressed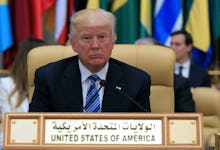 On Sunday, President Donald Trump called on Arab leaders to drive out terrorism from their countries in a speech that shifted the responsibility of combating militant extremism in the Middle East. 
The address was a drastic change in tone from the rhetoric Trump used before and after the presidential campaign. In 2016, Trump told CNN's Anderson Cooper he believed "Islam hates us" and referred to the religion as a "hateful foreign ideology" during his nomination acceptance speech at the Republican National Convention. In a 2011 interview with CBN's the Brody File, Trump said he believed the Quran teaches "some very negative vibe [sic]." Within the first few weeks of his presidency, Trump signed two executive orders barring both Syrian refugees and immigrants from up to seven majority-Muslim countries from entering the United States.
But on Sunday, Trump resorted to a more diplomatic tone when delivering an address to more than 50 Arab leaders at the Arab Islamic American Summit in Riyadh, Saudi Arabia. Trump referred to Islam as the "one of the world's greatest faiths" and sought to distinguish the religion from acts of terrorism. "Terrorists do not worship God, they worship death," Trump said.
Shahed Amanullah, who focused on interactions with global Muslim communities during his time as a senior technology adviser to the State Department under secretaries of state Hillary Clinton and John Kerry, said Trump placing the responsibility on Muslims to combat terrorism won't heed any practical or meaningful change. Amanullah also pointed out that several Arab and majority-Muslim countries have already been working alongside the U.S. in militarily combating terrorism.
"The idea that Trump telling Muslims to fight terrorism within their midst will create any meaningful change in their actions is laughable," Amanullah told Mic in a Twitter message. "For one, these countries have been working closely with the U.S. on counterterrorism for years now. Second, it's clear that Trump will do nothing to stop the global spread of Salafi [and] Wahhabi ideologies by Saudis, which is a crucial precursor to extremism within Muslim communities."
Wahhabism is a strict fundamentalist Islamic ideology born out of and practiced in Saudi Arabia. During his visit, Trump signed a weapons deal worth $110 billion in purchases of U.S. military equipment from the country, which is reportedly the largest state sponsor of terrorism. On Sunday, the U.S. Department of Treasury also announced a U.S.-Saudi Arabia agreement to co-chair the Terrorist Financing Targeting Center, "a collaborative approach to confronting new and evolving threats arising from terrorist financing."
Dalia Mogahed, former White House adviser during the Obama administration and director of research at the Institute for Social Policy and Understanding, said Trump's seemingly diplomatic speech won't mean anything without policy. 
"The difference in Trump's tone is certainly welcomed, but contradicts almost two years of rhetoric and not only his own documented statements, but those of his many advisors and appointees," Mogahed told Mic in an email. "The significance of this sea change is easy to quantify: [some] $400 billion to be exact, the arms deal he just made with the Saudi kingdom. One of the great world religions and its followers should not be at the mercy of the business deal of the week, and these more conciliatory words must be followed up with justice at home."
Sahar Aziz, professor of law at Texas A&M University and a highly regarded expert in national security, said Trump's speech failed to address the root causes of global terrorism: authoritarianism, oppression and state-sponsored violence. 
"Rather than acknowledge the role that authoritarianism, state violence and political repression plays in causing terrorism, he mistakenly treats terrorism as a separate phenomenon," Aziz told Mic in an email. "So long as dictatorship and state violence represses the people's human aspirations for self-governance, freedom and prosperity, terrorism will continue to thrive in the region."
The speech, Aziz said, sounded more like a press release delivered by the kingdom than a "message from a nation committed to freedom and dignity for all people." In his remarks, Trump accused Iran of funding terrorism groups and urged other Arab countries to isolate the Shia-majority country. 
In addition to his condemnation of Iran, Aziz said Trump's arms deal with the kingdom contradicts his remarks about peace and tolerance.
"On the one hand, he calls on Middle Eastern governments to trigger a renaissance in a region home to the world's oldest and richest civilizations," she said. "He calls on Arab leaders to create jobs and opportunity for their despondent youth. On the other hand, the primary motivation for his first foreign trip is to sell Gulf monarchies hundreds of billions [of] dollars of weapons they will use to destroy Yemen and escalate their hostility toward Iran through proxy wars in Syria and Iraq."
In other words, while Trump may proselytize a message of peace, it's the money that's doing the talking.