'Dragon Ball Xenoverse 2' Nintendo Switch: Bandai Namco Brings 'Dragon Ball Z' to Switch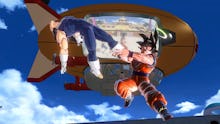 Good news for fans of Akira Toriyama's Dragon Ball Z series — the Bandai Namco published action brawler Dragon Ball Z Xenoverse 2 is coming to the Nintendo Switch later this year. So if you weren't able to play the game when it was originally released last October for the PlayStation 4, XBox One and PC, you'll have a new, portable opportunity to play the game this fall.
Dragon Ball Xenoverse 2 Nintendo Switch: Bandai Namco announces Switch port via tweet
According to Nintendo Everything, Bandai Namco announced the Switch port in a tweet from its official social media account Saturday:
Doesn't get much more explicit than direct developer confirmation, so fans will have something to get excited about, even if they've already played Xenoverse 2. In particular, the promise of the Switch port having motion controls and two-player functionality on a single system should be enough to pique some interest.
Nintendo Everything did note that there wasn't any information for a European release, but seemed confident that the Switch port would also see a PAL release as well. Additionally, IGN reported that the developer said we'd see more details arriving soon. It's still early in the summer, so we might have a little longer to wait. Currently you can preorder Xenoverse 2 for Switch on the GameStop website, but it doesn't have a release date listed — or cover art for that matter. 
If that's not enough, you can also check out some of the initial screenshots for the game on Nintendo Everything.
More gaming news and updates
Check out the latest from Mic, including our list of video games that made fun of their players, a personal essay about dealing with anxiety through Breath of the Wild, a look at the racist and sexist experiences in esports and a plea for better character customization options for black characters.