Ivanka Trump takes $100 million from country her father once said wants "women as slaves"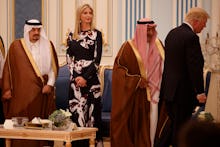 On Sunday, Saudi Arabia and the United Arab Emirates pledged to donate $100 million to the World Bank's Women Entrepreneurs Fund, an initiative first daughter and White House adviser Ivanka Trump proposed. 
The donation has prompted ethics questions about how a White House adviser is capable of shaping foreign policy decisions while also accepting donations for the initiative. It also wasn't too long ago that President Donald Trump publicly criticized former Secretary of State Hillary Clinton for taking Clinton Foundation contributions from Saudi Arabia and other Middle Eastern countries. In June 2016, then-candidate Donald Trump demanded Clinton return all donations from Saudi Arabia because the kingdom wants to "kill gays" and "wants women as slaves."
The first daughter also delivered remarks at a roundtable in Riyadh, Saudi Arabia, where she praised the country's efforts in improving the quality of life and rights of women.
"Saudi Arabia's progress, especially in recent years, is very encouraging but there's still a lot of work to be done and freedoms and opportunities to continue to fight for," Ivanka Trump said. 
"In every country around the world, women and girls continue to face unique systematic, institutional cultural barriers, which hinder us from fully engaging in and achieving true parity of opportunity within our communities," she added. "Each of you know this to be true. And yet the stories of Saudi women, such as yourselves, catalyzing change, inspire me to believe in the possibility of global women's empowerment."
Ironically enough, according to Washington Post reporter Drew Harwell, two female reporters were kicked out of the event after Ivanka's introductory remarks.
During his speech at the Riyadh summit, Donald Trump called on Arab leaders to join the United States in standing against the oppression of women in the Middle East. He said Arab countries must be "standing together against the murder of innocent Muslims, the oppression of women, the persecution of Jews and the slaughter of Christians."
Granted, Donald Trump's comments came after he signed business agreements totaling roughly $400 billion — including one of the largest weapons deals between the United States and Saudi Arabia — with a country where women are prohibited from driving, required to seek permission from a male guardian for any travel and segregated from men in public places. 
Donald Trump also praised the kingdom's Vision 2030, the country's strategic plan for the next 13 years, as an "important and encouraging statement of tolerance, respect, empowering women and economic development."
According to Arab News, Saudi Arabia's first English-language newspaper, about 60% of the country's university graduates are women. In response to this growing number, the country's Vision 2030 goals include increasing women's participation in the workforce from 22% to 30%. However, there is no mention of improving women's rights in the Vision 2030.