'Destiny 2' PC Dedicated Servers: Bungie confirms the game won't have them for any platform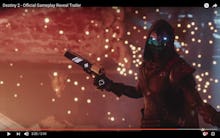 If you were hoping Bungie might make the jump to using dedicated servers for Destiny 2, you're going to be disappointed. The developer has announced the game won't be using dedicated servers at all for multiplayer, choosing to focus instead on fine-tuning the tech already in place for the original Destiny.
Keep reading for a little more background on what this means and how Bungie arrived at its decision.
Destiny 2 Dedicated PC Servers: Bungie employees explain why the game won't have dedicated servers
According to Polygon, PC project lead David Shaw confirmed in an interview with PC Gamer that there wouldn't be dedicated servers for Destiny 2, calling it "a complicated typology." Polygon predicted Destiny 2 would probably use the previous game's peer-to-peer system for online multiplayer. It's the norm for console games, but it also has a tendency to cause latency issues since each player transmits their own data, causing more chances for contact failure.
Further, PlayStationLifestyle reported In an interview with IGN, project lead Mark Noseworthy said there would be no dedicated servers and the game would run at 30fps on consoles. Game director Luke Smith echoed those statements, saying it "just wasn't an investment they made for Destiny 2." While that's not an especially compelling reason — particularly given the number of threads on the Destiny subreddit asking for dedicated servers — but Smith was quick to point out they were working on other latency fixes as well:
I understand there's certainly a desire for it, but you know, the smaller team format — although it's one bigger in the [Trials of Osiris] case for sure here — in the smaller team formats in general it's easier for us to find tighter matches. And we're also going to rechange the parameters for matchmaking, to refocus on connection quality instead of like Trials win matching. We're going to change a bunch of the parameters to focus on giving people better network experiences.
As always, it remains to be seen whether these fixes are enough to cut the mustard when Destiny 2 comes out later in 2017.
More gaming news and updates
Check out the latest from Mic, including our list of video games that made fun of their players, a personal essay about dealing with anxiety through Breath of the Wild, a look at the racist and sexist experiences in eSports and a plea for better character customization options for black characters.