Donald Trump's first budget to slash $800 billion from Medicaid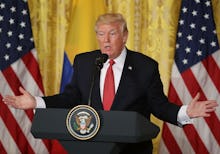 President Donald Trump's first major budget proposal on Tuesday would cut more than $800 billion from Medicaid over 10 years, terminating benefits for up to 10 million people over 10 years and giving states more power to cut off benefits from federal anti-poverty programs, the Washington Post  reported Sunday.
According to the Post, the Medicaid cuts in Trump's budget plan are the same as those proposed in the American Health Care Act, the Republican plan to repeal and replace the Affordable Care Act with a system of tax credits. It's a clear signal Trump is aligning his priorities with House conservatives, who are reportedly looking to cut an additional $400 billion from social safety net programs like food stamps and income assistance.
The president promised not to make cuts to Medicaid on the campaign trail.
Trump's proposed changes to such programs would allow states, which administer much of those programs' regional implementation, to tighten work eligibility requirements. While pushing people out of government-administered benefit programs and into the workforce has long been a key conservative talking point, tightening eligibility requirements would allow GOP-controlled states to accomplish the first objective without necessarily doing something about the second.
According to the Post, Trump has instructed White House budget director Mick Mulvaney not to touch Medicare or Social Security's retirement programs. But he is open to cutting benefits or changing eligibility requirements for Social Security's supplemental and disability components, as well as the Supplemental Nutrition Assistance Program, the modern equivalent of food stamps.