Billboard Music Awards 2017: Watch Diddy wish the Notorious B.I.G. a happy birthday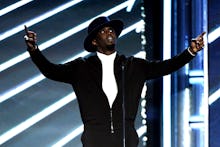 Had his life not been cut short 20 years ago, the Notorious B.I.G. would have turned 45 on Sunday. To celebrate his enduring legacy, Sean "Diddy" Combs, founder of Bad Boy Records, paid tribute to the rap legend during the Billboard Music Awards. 
"Biggie was the best rapper I ever had a chance to work with," Diddy said. "Watching him and seeing him work is something that words can't explain."
Diddy took the audience back to the 1997 Billboard Music Awards, when he presented an award to Biggie's mother, Voletta Wallace, a few months after her son's death. They replayed a portion of the poetic tribute she gave to the beloved rapper: 
I'd like to say this: 'A life lost is a life missed. A life gained is a life blessed. A life lived is a life remembered.' That was my son.
Diddy also brought out the Notorious B.I.G.'s son, recording artist and actor Christopher Jordan Wallace, who pledged to live by his father's words and carry on the legacy of his father's name.
While some couldn't help resurfacing the conspiracy theory that Diddy was responsible for Biggie's death, others were moved to offer their own tributes to the fallen MC.
During his tribute, Diddy took the opportunity to hype his forthcoming film Can't Stop, Won't Stop: The Bad Boy Story, which premiered at the Tribeca Film Festival earlier this year. Watch the trailer below.
Mic has ongoing music coverage. Please follow our main music hub here.