FBI investigating University of Maryland stabbing as a hate crime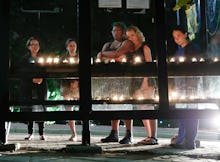 The FBI is evaluating whether a white student suspected of fatally stabbing a black student visiting the University of Maryland campus should be tried for a hate crime, university police said in a press conference, according to CNN. 
On Sunday, University of Maryland Police Chief David Mitchell told reporters that 23-year-old Richard Wilbur Collins III had been walking on campus with two friends early Saturday morning when the suspect approached him "yelling — in fact, perhaps screaming, is one description," Mitchell said. 
"[Urbanski] then said, 'Step left, step left if you know what's good for you,'" Mitchell said, quoting witnesses.
Collins refused. The suspect — 22-year-old Sean Christopher Urbanski — then allegedly stabbed Collins in the chest with a knife. Collins was transported to Prince George's County Shock Trauma, where he was declared dead.
Collins had been commissioned as a second lieutenant in the U.S. Army two days before the fatal incident and had been preparing to graduate from Bowie State University on Tuesday, Mitchell said. 
Urbanski, a University of Maryland student, had belonged to a Facebook group called "Alt Reich." 
"When I looked at information contained on [the] website, it's despicable. It shows extreme bias against women, Latinos, members of the Jewish faith and especially African-Americans," Mitchell said. "Which brings up questions as to the motive of this case."
The suspect has already been charged with first and second-degree murder and first-degree assault, according to a UMPD press release.
On Saturday, University of Maryland president Wallace D. Loh said in a statement that the "horrific assault" had "shocked, saddened and angered our community and beyond."
"New information obtained today from witnesses and other sources has led law enforcement officials to consider a hate-bias motive in this case," Loh said. "To ensure a comprehensive investigation, UMPD today asked the Federal Bureau of Investigation to provide technical and forensic expertise, which it agreed to do."
Correction: May 29, 2017