Donald Trump touched a glowing orb, and a meme was born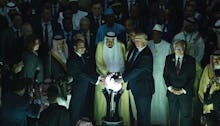 President Donald Trump, on the first leg of his first foreign trip as commander in chief, was captured on film Sunday touching a glowing globe with Saudi Arabian King Salman bin Abdulaziz Al Saud and Egyptian President Abdel Fattah Saeed Hussein Khalil el-Sisi — immediately birthing a new meme.
The glowing Earth, which looked like a mystical orb, was located in Saudi Arabia's new Global Center for Combating Extremist Ideology, which Trump visited after delivering a speech on combatting "Islamist extremism."
And the moment instantly overshadowed Trump's speech, with Twitter blowing up with jokes about the orb and its perceived powers.
One user's mind was blown when he realized that a bunch of characters touching a glowing orb was how the movie Space Jam started.
Others imagined Trump's internal monologue while touching the orb.
While some used the moment to joke about Trump's habit of flip-flopping on his positions from the campaign trail.
Then, there were the others that made random observations about the orb.
Even the Church of Satan got in on the action.
"For clarification, this is not a Satanic ritual," the Church of Satan tweeted from its official Twitter account.
At least that's cleared up.