Melania Trump's most controversial accessory — the pussy bow — has made a comeback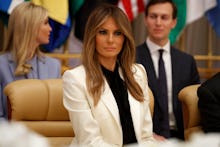 The first time she did it, we thought it may be a signal. Just mere hours after audio of her husband uttering the words "Grab them by the pussy," leaked, Melania Trump showed up to a debate wearing a hot pink blouse with a bow at the neck or, as it's most commonly known, a pussy bow. 
The second time she did it, we thought, "OK, something's definitely going on." To yet another debate, after much was made of her first pussy bow, Trump wore yet another one, and this time it was in black. 
Was Trump resisting? Was she saying "Trust me, I hate him too"? Well, guess you can keep your conspiracy theories going, because over the weekend, while Trump was with her husband in Saudi Arabia for his first trip abroad, Trump did it again. 
She wore a pussy bow blouse... 
... again.
This time, it was a tad more subtle, worn on a black blouse beneath a white suit by Dolce & Gabbana to the Arab Islamic American Summit in Riyadh, Saudi Arabia. 
But still, with so many blouse silhouettes for a first lady to choose from, this one is the one that keeps on popping up. Sure, it's quite flattering and feminine and rooted in feminist history, truth be told, but if you had a husband who was publicly bashed for describing a crude act on, well, a pussy, wouldn't you veer away from clothing that's known as a "pussy bow"?
To add fuel to this fire, the timing of this pussy bow is actually quite ironic. On May 2, before this third pussy bow appearance, the first lady's personal Twitter account liked a tweet insinuating that she really does hate her husband. 
"Seems like the only wall [Donald Trump's] built is the one between him and @FLOTUS," it read. 
Unsurprisingly, the tweet was quickly un-liked on Twitter, and Trump's team was quick to respond. 
"The First Lady wasn't aware of any of this until I brought it to her attention," Stephanie Grisham, Trump's communications director, told People. "It isn't her primary account and we have since changed the passwords."
But at the same time, consider this, from just this morning. 
At this point, we just want to know, you know? 
We want to know if Trump knows what she's doing here. Over the past few months as first lady, she's shown that she understands how to use fashion to send cues of support, wearing red, a powerful color in Chinese culture, while welcoming China's president and first lady, for example. So does she also know how to use clothes to show disgust? 
And if you doubt that she knows that a limp bow at the top of a blouse is known as a "pussy bow," consider that she has extensive knowledge of fashion, was a model for more than a decade and designed her own inaugural gown. 
She knows fashion, so she should know that that bow is indeed called "a pussy bow." The question now is: What is she trying to really tell us?