Black Texas Rep. Al Green threatened with lynching after calling for Trump's impeachment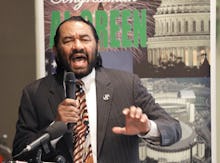 United States Rep. Al Green (D-Texas) has received several threatening voicemail messages since he called for the impeachment of President Donald Trump last week. 
The Houston Chronicle compiled three of the recordings, which Green played at a town hall meeting in Houston on Saturday. Two of the callers referred to Green as a "nigger" and threatened to lynch him.
"You ain't gonna impeach nobody you fuckin' nigger," one caller said. "Try it, and we'll lynch all you fuckin' niggers, you'll be hanging from a tree."
"Hey Al Green, we've got an impeachment for you: It's gonna be yours," said another. "In fact, we'll even give you a short trial before we hang your nigger ass."
You can listen to all three recordings below:
The calls came after Green accused Trump of obstructing justice on the House floor Wednesday, an allegation that stemmed from the president's sudden firing of former FBI Director James Comey, who was investigating Trump's alleged ties to Russia.
Green is one of a growing number of Democratic lawmakers calling for Trump's impeachment in recent weeks.
"We are not going to be intimidated," Green told the 100 attendees at Saturday's town hall, according to CBS News. "We are not going to allow this to cause us to deviate from what we believe to be the right thing to do and that is to proceed with the impeachment of President Trump."
Lynching has long been a tool of white supremacist terrorism in the U.S. White people in the South preserved the region's racial hierarchy by lynching more than 4,000 black people between 1877 and 1950, according to an investigation by the Equal Justice Initiative. 
The bulk of the lynchings EJI documented were concentrated in 12 states: Alabama, Arkansas, Florida, Georgia, Kentucky, Louisiana, Mississippi, North Carolina, South Carolina, Tennessee, Texas and Virginia. These incidents often included more than just hangings: beatings, incineration and genital mutilation were common components as well. 
Lynching threats assumed new relevance with the rise of Trump, who attracted a wide range of white supremacist supporters to his cause. In the course of his campaign, the president received open support from alt-right activist Richard Spencer and former Ku Klux Klan grand wizard David Duke, and an official endorsement from the KKK's newspaper, The Crusader.
In this light, the recent phone threats have generated serious cause for concern for Green. He says the best way to fight them is to expose them.
"You cannot allow hate to be hidden," Green said, according to the Houston Chronicle. "You have to expose hate. Hate is a means by which people can be harmed. It's an evil. The best way to deal with evil is to expose."