The 'Twin Peaks' premiere gave us 2 poignant scenes with the Log Lady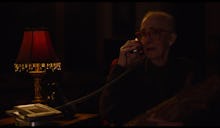 The words still feel foreign even as I'm typing them, but, after 26 years, Twin Peaks returned for new episodes. There was, of course, a healthy dose of nostalgia for fans of the original series, starting with the high school photo of Laura Palmer segueing us to the revamped opening title sequence (rest assured, Angelo Badalamenti's iconic theme is untouched). But we also saw new characters and settings, including a fresh murder in South Dakota. Some horny kids in New York City — yes, New York in Twin Peaks! — even had their faces ripped apart by an unknown entity from a glass box. There's a supernatural tree and an evil tree doppelgänger in the Black Lodge now. Which is to say: Twin Peaks is still very, very strange. 
The sprawling two-hour premiere was probably overwhelming even for the most devout fans of the series and David Lynch, but familiar faces were there as a guide through the opaque storytelling. Perhaps none were as effective as the return of Margaret Lanterman, best known to fans as the Log Lady. The Log Lady encapsulates what made Twin Peaks such a sensation — the surrealism of a clairvoyant log and an owner who takes the log's messages quite seriously, despite the optics of a person carrying a log with them everywhere being anything but. 
But the Log Lady's return had an aura of profound sadness, given that actress Catherine Coulson died from cancer in 2015. It was reported that Coulson filmed her scenes prior to her death, and it's likely that the character's gaunt appearance in the revival had something to do with the actor's illness. It makes the Log Lady's two scenes in the premiere, both over the phone with deputy police chief Hawk, especially poignant. 
"Hawk, my log has a message for you," she tells him, holding her beloved log. "Something is missing and you have to find it. It has to do with special agent Dale Cooper. The way you will find it has something to do with your heritage. This is a message from the log." 
Log Lady gets fans up to speed on how the Bob-possessed Agent Cooper might've left things in the town after that season two cliffhanger. It also gives Hawk a new purpose in Twin Peaks, one which leads him into the woods. As Hawk's approaching the entrance to the Black Lodge, he gets another call from the Log Lady. Another cryptic message: "The stars turn and the time presents itself. Hawk, watch carefully." 
But it's the parting words from the Log Lady that will surely leave fans a bit teary-eyed, knowing Coulson's condition at the time. "I am too weak to go with you," she says. "But stop by — I have coffee and pie for you." Coffee and pie? The key to anyone's heart in Twin Peaks. 
I have only seen three episodes of the new Twin Peaks — the third and fourth episodes can be streamed on Showtime and will air Sunday — but hearing Hawk say goodnight to her really makes it feel like we're all saying farewell to Coulson and the Log Lady one last time. We may see her again on-screen; we may not. Regardless, the Log Lady and her mystifying messages embody the best of Twin Peaks. Suffice it to say: It wouldn't have been a proper revival without her.  
Goodnight, Margaret. 
The Twin Peaks revival airs Sundays at 9 p.m. Eastern on Showtime. The first four episodes are available to stream on Showtime's website.   
Mic has ongoing Twin Peaks coverage. Follow our main Twin Peaks hub here.